Rates Agreement Favoured: Monopoly Opposed
13th December 1935
Page 64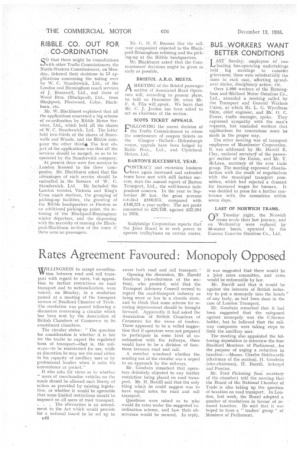 Page 64, 13th December 1935 —
Rates Agreement Favoured: Monopoly Opposed
Close
WWILLINGNESS to accept co-ordination tion between road and rail transport with regard to rates, tut opposition to further restrictions on road transport and to nationalization, were voiced, on Monday, in a resolution passed at a meeting of the transport section of Bradford Chamber of Trade. The resolution was passed following a discussion concerning a circular which has been sent by the Association of British Chambers of Commerce to 'its constituent chambers.
The circular states: " The question for consideration is whether it is fair for the trader to expect the regulated form of transport—that is, the railways—to bemaintained for use, while at discretion he may use the road either in his capacity of ancillary user or by professional haulier when it suits his convenience or pocket."
It also asks ft:r views as to whether " users of merchandise vehicles on the roads should be allowed such liberty of action as provided by existing legislation, or whether it would be agreeable that some limited restrictions should be imposed on all users of road transport. . . . The alternative is an amendment to the Act which would provide for a national board to be set up to
1346 cover both road and rail transport.
Opening the discussion, Mr. Harold Goodwin (vice-chairman of the section), who presided, said that the Transport Advisory Council seemed to regard the road-transport industry as being more or less in a chaotic state, and to think that some scheme for securing improvement should be brought forward. Apparently it had asked the Association of British Chambers of Commerce for the views of traders. There appeared to be a veiled Suggestion that if operators were not prepared to participate in some kind of coordination with the railways, there would have to be a division of functions between road and rail.
A member wondered whether the sending out of the circular was a sequel to an approach by the railways, Mr. Goodwin remarked that operators definitely objected to any further restriction being placed on road transport. Mr. H. Burrill said that the only thing which he could suggest was to have equal rates for road and rail transport, Questions were raised as to who would fix rates under the suggested, Coordination scheme, and how their observance would be secured. In reply, it was suggested that there would be a joint rates committee, and rates would be enforceable by law.
Mr. Burrill said that it would be against the interests of British industry to put a monopoly into the hands e of any body, as had been done in the case of London Transport.
Mr. Goodwin remarked that it had been suggested that the safeguard against monopoly was the C-licence holder, but he believed that the railway companies were taking steps to limit the ancillary user.
The meeting also appointed the following deputation to interview the four Bradford Members of Parliament, .for the purpose of urging a reduction in taxation :—Messrs. Charles Holdsworth (chairman of the section), H. Goodwin (vice-chairman), H. Burrili, Ackroyd and Preston.
Mr. Fred Pickering (hon. secretary of the chamber) told the meeting that the Board of the National Chamber of Trade is also taking up the question of taxation on road transport. In London, last week, the Board adopted a number of resolutions in favour of reduced taxation. He said that it was hoped to form a "trader';' group " of Members of Parliament.