BUS SPEEDOMETERS RELIABLE?
13th December 1935
Page 62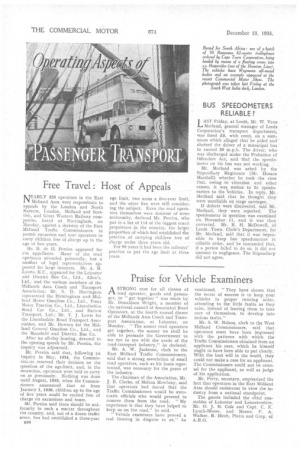 Page 62, 13th December 1935 —
BUS SPEEDOMETERS RELIABLE?
Close
UsT Friday, at Leeds, Mr. W. Vane Morland, general manager of Leeds Corporation's transport department, was fined z£5, with costs, on a sum-, mons which alleged that he aided and abetted the driver of a municipal bus to exceed 30 m.p.h. The driver, who was discharged under the Probation of Offenders Act, said that the speedometer on his bus was not working.
Mr. Morland was asked by the Stipendiary Magistrate (Mr. Horace Marshall) whether he • took the view that, owing to vibration and other causes, it was uselesS to -fit gpeedometers to the 'vehicles. In reply, Mr. Morland said that he thought they were unreliable on stage carriages..
If defects were discovered, said Mr. Morlancl, they were reported. The speedometer in question was examined on November 11, and it was 'then corrected. Mr. R. H. McDowell, of Leeds Town Clerk's Department, for Mr. Morland, said that it was impossible to keep bus speedometers in reliable order, and he contended that, if a person failed to do so, it did not amount to negligence. The Stipendiary did not agree.