HAULIERS WHO DO NOT ATTEND SITTINGS.
13th December 1935
Page 42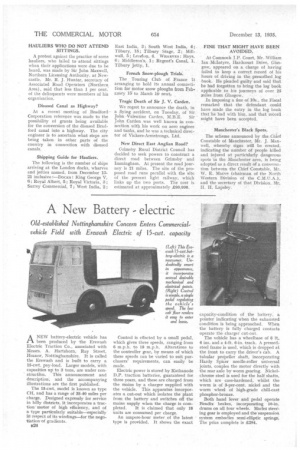 Page 42, 13th December 1935 —
HAULIERS WHO DO NOT ATTEND SITTINGS.
Close
Keywords :
A protest against the practice of some hauliers, who failed to attend sittings when their applications were due to be heard, was made by Sir John Maxwell, Northern Licensing Authority, at Newcastle. Mr. R. J. Hunter, secretary of Associated Road Operators (Northern Area), said that less than 1 per cent. of the delinquents were members of his organization.
Disused Canal as Highway?
At a recent meeting of BradfordCorporation reference was made to the possibility of grants being available for the conversion of the disused Bradford canal into a highway. The city engineer is to ascertain what steps are being taken in other parts of the country in connection with disused canals,
Shipping Guide for Hauliers.
The following is the number of ships arriving at the London docks, wharves and jetties named, from December 1321 inclusive :—Docics King George V. 6: Royal Albert, 5; Royal Victoria, 9; Surrey Commercial, 7; West India, 2; East India, 3; South West India, 4; Tilbury, 18; Tilbury Stage, 2; Millwall, 5; London, 4. WHARVES: Hays, 6; Middleton's, I ; Regent's Canal, 1. Tilbury Jetty, 1, French Snow-plough Trials:
The Touring Club of France 13 arranging to hold its annual competition for motor snow ploughs from FebLuary 15 to March 10 next.
Tragic Death of Sir J. V. Carden. We regret to announce the death, in a flying accident, on Tuesday, of *Sir John Valentine Carden, M.B.E. Sir John Carden was well known in connection with his work on aero engines and tanks, and he was a technical director of Vickers-Armstrongs, Ltd, New Direct East Anglian Road?
C-rimsby Rural District Council has decided to seek powers to construct a direct road between Grimsby and Immingham. At present the road journey is 21 miles. The site of the proposed road runs parallel with the site of the present light railway, which links up the two ports. The cost is estimated at approximately 290,000. FINE THAT MIGHT HAVE BEEN AVOIDED.
At Cumnock T.P. Court, Mr. William Ian McIntyre, Hardcourt Drive, Glasgow, appeared on a charge of having failed to keep a correct record of his hours of driving in the prescribed log book. He pleaded guilty and said that he had forgotten to bring the log book applicable to his journeys of over 25 miles from Glasgow.
Jo imposing a fine of 10s., the Fiscal remarked that the defendant could have made the entry in the log book that he had with him, and that record might have been accepted.
Manchester's Black Spots.
The scheme announced by the Chief Constable of Manchester, Mr. J. Maxwell, whereby signs will be erected, indicating the number of people killed and injured at partichlarly dangerous spots in the Manchester area, is being adopted as a direct result of a conversation between the Chief Constable, Mr. W. E. Macve. (chairman of the North Western Division of the C.M.u.A.), and the secretary of that Division, Mr.
H. H. Lapsley. •
Tags
People
:
R. J. Hunter
,
Royal Victoria
,
John Maxwell
,
Millwall
,
J. Maxwell
,
Royal Albert
,
George V
,
William Ian McIntyre
,
John Valentine Carden
,
Tilbury Stage
,
J. V. Carden
,
H. H. Lapsley
,
W. E. Macve