A New Battery electric
13th December 1935
Page 42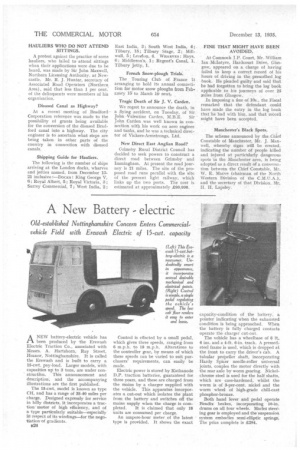 Page 42, 13th December 1935 —
A New Battery electric
Close
ANEW battery-electric vehicle has been produced by the Erewash Electric Traction Co., associated with Messrs. A. Hartshorn, Ray Street, Heanor, Nottinghamshire. It is called the Erewash and is built to carry a 15-cwt. pay-load. Larger models, with capacities up to 3 tons, are under construction. This announcement and description, and the accompanying illustrations are the first published.
The 15-cwt. model is known as type CH, and has a range of 35-40 miles per charge. Designed expressly for service in hilly districts, it incorporates a traction' motor of high efficiency, and of a type particularly suitable—especially inrespect of its windings—for the negotiation of gradients.
B241 Control is effected by a small pedal, which gives three speeds, ranging from 6 m.p.h. to 18 m.p.h. Alterations to the controller gear, by means of which these speeds ran be varied to suit purchasers' requirements, can easily be made.
Electric power is stored by Kathanode D.P. traction batteries, guaranteed for three years, and these are charged from the mains by a charger supplied with the vehicle. This apparatus incorporates a cut-out which isolates the plant from the battery and switches off the mains supply when the charge is com pleted. It is claimed that only 18 units are consumed per charge.
An ampere-hour meter of the latest type is provided. It shows the exact capacity-condition of the battery, a pointer indicating' when the exhausted condition is being approached. When the battery is fully charged contacts operate the charger cut-out.
The vehicle has a wheelbase of 6 "ft. 6 ins, and a 4-ft. 6-in. track. A pressedsteel frame is used, which is dropped at the front to carry the driver's cab. A tubular propeller shaft, incorporating Hardy Spicer needle-roller universal joints, couples the motor directly with the rear axle by worm gearing. Nickelchrome steel is used for the half shafts, which are case-hardened, whilst the worm is of 3-per-cent. nickel and the worm wheel of high-grade chill-cast phosphor-bronze.
Both hand lever and pedal operate Bendix brakes, incorporating 10-in. drums on all four wheels. Manes steering gear is employed and the'suspensiOn system embodies semi-elliptic springs: The price complete is £294.