Personal Pars
13th December 1935
Page 41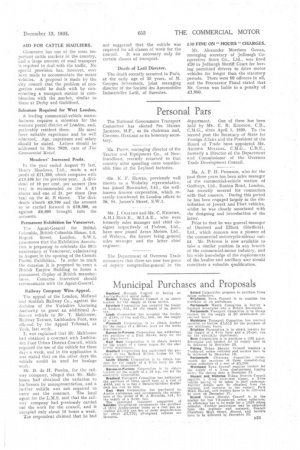 Page 41, 13th December 1935 —
Personal Pars
Close
The National Government Transport Committee has elected SIR HENRY JACKSON, M.P., as its chairman and, COLONEL HENEAGE as its honorary secretary.
Mn. PIPPY, managing director of the Tractor and Equipment Co,, of Newfoundland, recently returned to that country after spending some considerable time at the Leyland factories.
K. F. HEWES, previously well
known as a Wolseley representative, has joined Bowmaker, Ltd., the wellknown finance corporation, which recently transferred its London offices to 26, St. James's Street, S.W.1.
MR. J, CHALLEN and MR. C. KILBURN, A.MJ.Mech.E., M.I.A.E., who were formerly sales manager and chief designer respectively of Fodens, Ltd., have now joined Arran Motors, Ltd., of Welwyn, the former being ,general tales manager and the latter chief engineer.
The Department of Overseas Trade announces that there are now two posts of deputy comptroller-general in the department. One of these has been held by MR. E. R. EDDISON, C.B., C.M.G., since April 1, 1930. To the second post the Secretary of State for Foreign Alairs and the President of the Board of Trade have appointed MR. ARTHUR MULLINS, C.M.G" C.B.E., formerly a Director of the Department and Commissioner of the Overseas Trade Development Council.
MR. A. P. H. PHERSON, who for the past three years has been sales manager of the commercial-vehicle section of Godheys, Ltd., Euston Road, London, has recently severed his connection with that concern. During this period he has been engaged largely in the distribution of Jowett and Fleet vehicles, whilst he was closely associated with the designing and introduction of the latter.
Prior to that he was general manager of Dunford and Elliott (Sheffield), Ltd., which concern was a pioneer of the commercial motorcycle-sidecar outfit. Mr. Pehrson is now available to take a similar position in any branch of the commercial-motor industry, and his wide knowledge of the requirements of the haulier and ancillary user should constitute a valuable qualification.