Plaxton's £7.5m lifeline
13th August 1992
Page 18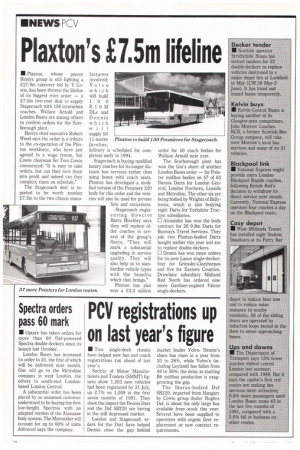 Page 18, 13th August 1992 —
Plaxton's £7.5m lifeline
Close
Keywords :
Buses
,
Transport
,
Land Transport
,
Road Transport
,
Plaxton
,
Scarborough, North Yorkshire
,
Dennis Dart
,
Henlys Group
,
Metroline
,
Busways Travel Services
,
Plaxton Pointer
,
East Yorkshire Motor Services
• Plaxton, whose parent Henlys group is still fighting a £27.9m takeover bid by T Cowie, has been thrown the lifeline of its biggest ever order — a £7.5m two-year deal to supply Stagecoach with 150 interurban coaches. Wallace Arnold and London Buses are among others to confirm orders for the Scarborough plant.
Henlys chief executive Robert Wood says the order is a tribute to the co-operation of the Plaxton workforce, who have just agreed to a wage freeze, but Cowie chairman Sir Tom Cowie commented: "It is easy to take orders, but can they turn them into profit and indeed can they complete them on schedule."
The Stagecoach deal is reported to be worth another £7.5m to the two chassis manu facturers involved: Volvo which will build 1 0 0 B 1 OM DLs and Dennis which will supply 50 11-metre Javelins; delivery is scheduled for completion early in 1994.
Stagecoach is buying modified luxury coaches for its longer distance bus services rather than using buses with coach seats. Plaxton has developed a modified version of the Premiere 320 body for this order and the vehicles will also be used for private hire and excursions.
Stagecoach engineering director Barry Hinckley says they will replace older coaches in several of the group's fleets. "They will mark a substantial upgrading in service quality. They will also help us to standardise vehicle types with the benefits which that brings."
Plaxton has also won a £3.5 million order for 50 coach bodies for Wallace Arnold next year.
The Scarborough plant has won the lion's share of another London Buses order — for Pointer midibus bodies on 57 of 63 Dennis Darts for London General, London Northern, Leaside and Metroline. The other six are being bodied by Wrights of Ballymena, which is also bodying eight Darts for Yorkshire Traction subsidiaries.
Alexander has won the body contract for 26 9.8m Darts for Busways Travel Services. They join two Plaxton-bodied Darts bought earlier this year and are to replace double-deckers.
Dennis has won more orders for its new Lance single-decker: four for Grimsby-Cleethorpes and five for Eastern Counties. Drawlane subsidiary Midland Red North has ordered nine more Gardner-engined Falcon single-deckers,