CLASSIFYING PASSENGER VEHICLES IN accepting the invitation to readers to
13th August 1948
Page 43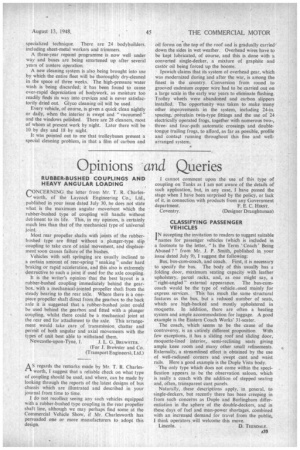 Page 43, 13th August 1948 —
CLASSIFYING PASSENGER VEHICLES IN accepting the invitation to readers to
Close
suggest suitable names for passenger vehicles (which is included in a footnote to the letter, "is the Term ` Coach ' Being Abused ? " from Mr. J. P. Smith, published in your issue dated July 9), I suggest the following: Bus, bus-cum-coach, and coach. First, it is necessary to specify the bus. The body of this usually has a folding door, maximum seating capacity with leather upholstery, • parcel racks, and, as one might say, a " right-angled " external appearance. The bus-cumcoach would be the type of vehicle ..used mainly for express services. This has much the same structural features as the bus, but a reduced number of seats, which are high-backed and mostly upholstered in moquette. In addition, there are often a heating system and ample accommodation for luggage. A good example is the Eastern Coach Works' 31-seater.
The coach, which seems to be the cause of the controversy, is an t..ntirely different proposition With few exceptions, it has a sliding roof and sliding door, moquette-lined interior, semi-reclining seats giving ample knee room and many other small refinements. Externally, a streamlined effect is obtained by the use of well-radiused corners and swept cant and waist rails. Here a good example is the Duple Vista body.
• The only type which does not come within the specification appears to be the observation saloon, which is really a coach with the addition of stepped seating and, often, transparent cant panels.
Naturally, . these descriptions apply, in general, to single-deckers, but recently there has been creeping in from such concerns as Duple and Burlingham differentiation in the sphere of the double-deckers, and in these days of fuel and man-power shortages, combined with an increased demand for travel from the public. I think operators will welcome this move.
Lincoln. . D. TEESDALE.