A s regards the remarks made by Mr. T. R.
13th August 1948
Page 43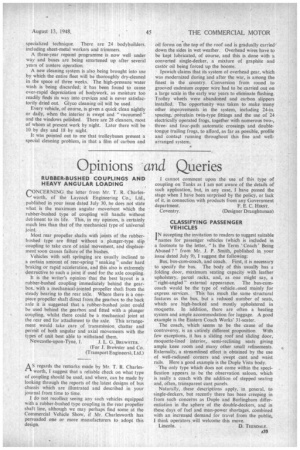 Page 43, 13th August 1948 —
A s regards the remarks made by Mr. T. R.
Close
Charles" worth, I suggest that a reliable check on what type of coupling should be used, and where, can be made by looking through the reports of the latest designs of bus chassis which are illustrated and described in your journal from time to time.
I do not recollect seeing any such vehicles equipped with a rubber-bushed type coupling in the rear propeller shaft line, although we may perhaps find some at the Commercial Vehicle Show. if Mr. Charlesworth has persuaded one or more manufacturers to adopt this design. I cannot comment upon the use of this type of coupling on Tanks as I am not aware of the details of such application, but, in any case, I have passed the stage when I have been surprised by the policy, or lack of it, in connection with products from any Government
department. F. E C. 111.RST.
Coventry. (Designer Draughtsman)