Keeping the Windscreen Clean
13th August 1948
Page 35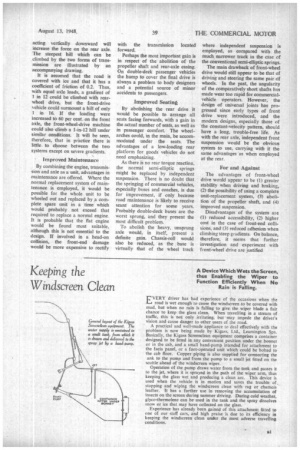 Page 35, 13th August 1948 —
Keeping the Windscreen Clean
Close
EVERY driver has had experience of the occasions when the road is wet enough to cause the windscreen to be covered with mud, but when no rain is falling to give the wiper blade a fair chance to keep the glass clean. When travelling in a stream of traffic, this is not only irritating, but may impede the driver's vision and cause danger to other users of the road.
A practical and well-made appliance to deal effectively with the problem is now being made by Kigass, Ltd., Leamington Spa. Basically, the Kigass Screenclean equipment comprises a container designed to be fitted in any convenient position under the bonnet or in the cab, and a small hand-pump intended for attachment to the facia panel, or a foot-operated unit which could be bolted to the cab floor. Copper piping is also supplied for connecting the ank to the pump and from the pump to a small jet fitted on the scuttle ahead of the windscreen wiper.
Operation of the pump draws water from the tank and passes it to the jet, where it is sprayed in the path of the wiper arm, thus keeping the glass wet and producing a clean arc. This device is used when the vehicle is in motion and saves the troubte of, stopping and wiping the windscreen clean with rag or chamois leather. It has a further use in removing the accumulation of insects on the screen during summer driving. During cold weather, glyco-thermolene can be used in the tank and the spray dissolves snow or ice that may have collected on the glass.
Experience has already been gained of this attachment fitted to one of our staff cars, and high praise is due to its efficiency in keeping the windscreen clean under the most adverse travelling conditions.