COTTON TRAFFIC RATES AGREED
13th August 1948
Page 28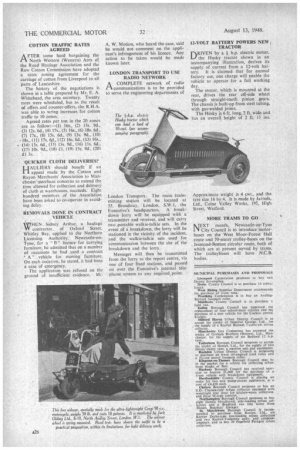 Page 28, 13th August 1948 —
COTTON TRAFFIC RATES AGREED
Close
AFTER some hard bargaining the North Western (Western) Area of the Road Haulage Association and the Raw Cotton Commission have adopted a rates zoning agreement for the carriage of cotton from Liverpool to all parts of Lancashire.
The history of the negotiations is shown in a table prepared by Mr. E. A. Whitehead, the area secretary. Twenty rates were scheduled, but as the result of offers and counter-offers, the R.H.A. was able to wring increases for cotton traffic to 10 zones.
Agreed rates per ton in the 20 zones are as follow:—(1) 16s., (2) 13s. 9d., (3) 12s. 6d., (4) 17s., (5) 16s., (6) I8s. 6d., (7) 17s., (8) 15s. 6d., (9) 13s, 9d., (10) 18s., (II) 17s. 6d., (12) I6s. 6d., (1.3) 16s., (14) 13s. 6d., (15) 13s. 9d., (16) 1 ls. 6d., (17) 10s. 9d., (18) .£1. (19) I3s. 9d., (20) £13s.
QUICKER CLOTH DELIVERIES?
HAULIERS should benefit if an appeal made by the Cotton and Rayon Merchants Association to ManchesteCiperchant concerns to extend the time allowed for collection and delivery of cloth at warehouses. succeeds. Eight hundred members of the Association have been asked to co-operate in avoiding delay.
REMOVALS DONE IN CONTRACT VEHICLE
WHEN Sidney Arthur. a haulage Vic contractor. of Oxford Street, Whitley Bay. applied to the Northern Licensing Authority, Newcastle-onTyne, for a " B" licence for carrying furniture, he admitted that on a number of occasions he had used a contract A" vehicle for moving furniture. On each occasion, he stated, it had been a case of emergency.
The application was refused on the ground of insufficient evidence. Mr. A. W. Motion, who heard the case, said he would not comment on the applicant's infringement of his licence. Any action to be taken would be made known later.
LONDON TRANSPORT TO USE RADIO NETWORK •
ACOMPLETE network of radio communications is to be provided to serve the engineering departments of
London Transport. 1 he main transmitting station will be located at 55, Broadway. London, S.W.1, the Executive's headquarters. A breakdown lorry will be equipped with a transmitter and receiver, and will carry two portable walkie-talkie sets. In the event of a breakdown, the lorry will be stationed in the vicinity of the incident, and the walkie-talkie sets used for Communication between the site of the breakdown and the lorry.
Messages will then be transmitted from the lorry to the report centre, via one of four fixed stations, and passed on over the Executive's internal telephone system to any required, point. I2-VOLT BATTERY POWERS NEW TRACTOR
DRIVEN by a hp. electric motor, the Husky tractor shown in an accompanying illustration, derives its supply of current from a 12-volt battery. It is claimed that for normal factory use, one charge will enable the vehicle to operate for a full working day.
The motor, which is mounted at the rear, drives the rear off-side wheel through straight-tooth pinion gears. The chassis is built-up from steel tubing, with gas-welded joints.
The Husky is 6 ft. long, 2 ft. wide and has an overall height of 2 ft. 11 ins.
Approximate weight is 4 cwt., and this tyre size 16 by 4. It is made by Jarreds, Ltd., Colne Valley Works, 195, High Street, Watford.
MORE TRAMS TO GO
NEXT month, Newcastle-on-Tyne City Council is to introduce motorbuses on the West Moor-Forest Hill rotate and 70-seater trolley-buses on the lesmond-Benton circular route, both of which are at present served by trams. The trolleybuses will have N.C.B. bodies.