PETROLEUM DEMAND EXCEEDS REFINERY FACILITIES
13th August 1948
Page 27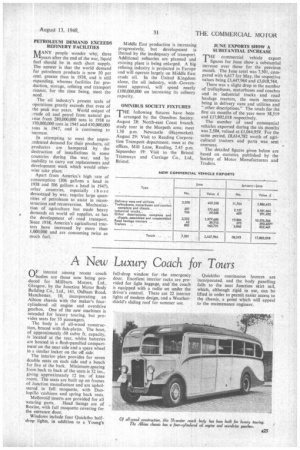 Page 27, 13th August 1948 —
PETROLEUM DEMAND EXCEEDS REFINERY FACILITIES
Close
NAANY people wonder why, three IVIyears after the end of the war, liquid fuel should be in such short supply. The answer is that the world demand for petroleum products is now 50 per cent. greater than in 1938, and is still expanding, whereas facilities for production, storage, refining and transport cannot, for the time being, meet the need.
The oil industry's present scale of operations greatly exceeds that even of the peak war years. World output of crude oil and petrol from natural gas rose from 280,000,000 tons in 1938 to 370,000,000 tons in 1945 and 430,000,000 tons in 1947, and is continuing to increase.
In attempting to meet the unprecedented demand for their products, oil producers are hampered by the destruction of installations in some countries during the. war, and by inability to carry out replacements and development work which would otherwise take place.
Apart from America's high rate of consumption (306 gallons a head in 1938 and 506 gallons a head in 1947), other countries, especially those devastated by war, require large quantities of petroleum to assist in reconstruction and reconversion. Mechanization of agriculture has made heavy demands on world oil supplies, as has the development of. road transport. Since 1938, America's agricultural tractors have increased by more than 1,000,000 and are consuming twice as much fuel. Middle East production is increasing progressively, but development is limited by the inadequacy of transport. Additional refineries are planned and existing plant is being enlarged. A big refining industry is projected in Europe and will operate largely on Middle East crude oil. In the United Kingdom alone, the oil industry, with Government approval, will spend nearly £100,000,000 on increasing its refinery capacity.
OMNIBUS SOCIETY FIXTURES
TtE following fixtures have been ranged by the Omnibus Society: August 28: North-east Coast branch. study tour in the Morpeth area; meet 1.30 p.m. Newcastle (Haymarket). August 29: Visit to Reading Corporation Transport department; meet at the offices, Mill Lane, Reading, 2.45 p.m. September 19: Visit to the Bristol Tramways and Carriage Co., Ltd., Bristol.