EUROPEAN ROAD NETWORK BEING PLANNED
13th August 1948
Page 26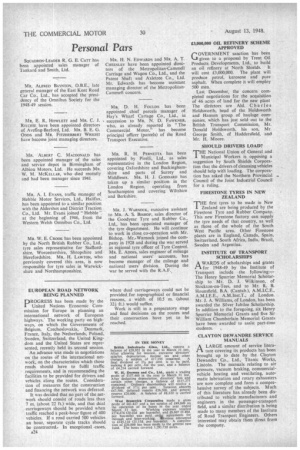 Page 26, 13th August 1948 —
EUROPEAN ROAD NETWORK BEING PLANNED
Close
DROGRESS has been made by the
United Nations Economic Commission for Europe in planning an international network of European highways.' The working party on highways, on which the Governments of Belgium, Czechoslovakia, Denmark, France, Italy, the Netherlands, Poland, Sweden, Switzerland, the United Kingdom and the United States are represented, recently held its second session.
An advance was made in negotiations on the routes Of the international network, on the characteristics which those roads should have to fulfil traffic requirements, and in recommending the facilities to be provided for drivers and vehicles along the routes. Consideration of measures for the construction and financing the network was deferred.
It was decided that no part of the network should consist of roads less than 7 m. (about 22 ft.) wide, and that dual carriageways should be provided when traffic reached a peak-hour figure of 400 vehicles. If a road carried 500 vehicles an hour, separate cycle tracks should be constructed.In exceptional .cases, A24 where dual carriageways could not be provided, for topographical or financial reasons, a width of 10.5 m. (about 321 ft.) would suffice.
Work is still in a preparatory stage and final decisions on the routes and their construction have yet to be reached.