13,000,000 OIL REFINERY SCHEME APPROVED
13th August 1948
Page 26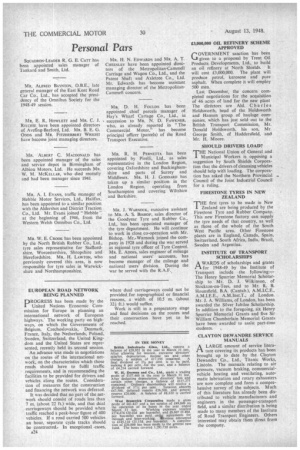 Page 26, 13th August 1948 —
13,000,000 OIL REFINERY SCHEME APPROVED
Close
Keywords :
GOVERNMENT sanction has been given to a proposal by Trent Oil Products Developments, Ltd., to build
an oil refinery at North Shields. It will cost 0,000,000. The plant will produce petrol, kerosene and pure asphalt. When complete it will employ 500 men.
Last December, the concern completed negotiations for the acquisition of 46 acres of land for the new plant The directors are Aid. Charles Holdsworth, head of the Holdsworth and Hanson group of haulage companies, which has just sold out to the British Transport Commission, Mr. Donald Holdsworth, his son, Mr. George Smith, of Huddersfield, and Mr. H. Moore, SHOULD DRIVERS LOAD?
THE National Union of General and Municipal Workers is opposing a suggestion by South Shields Corporation that the drivers of cleansing vehicles should help with' loading. The corporation has asked the Northern Provincial Council of the Joint Industrial Council for a ruling.
FIRESTONE TYRES IN NEW ZEALAND
THEE first tyres to be made in New are being produced by the Firestone Tyre and Rubber Company. This new Firestone factory can supply the tyre needs of that country, as well as those of the whole of the South West Pacific area. Other Firestone plants are in England, Canada, Spain, Switzerland, South Africa, India, Brazil, Sweden and Argentina.
INSTITUTE OF TRANSPORT SCHOLARSHIPS
AWARDS of scholarships and grants for 1948-49 by the Institute of Transport include the following:— The Henry Spurrier Memorial Scholarship to Mr. D. J. Wilkinson, of Stockton-on-Tees, and to Mr. R. B. Hounsfield, B.A. (Cantab.), A.M.I.C.E., A.M.I.E.E., A.M.Inst.T., of London. Mr. J. A. Williams, of London, has been awarded the Silver Jubilee Scholarship. In addition to the foregoing, six Henry Spurrier Memorial Grants and five Sir William Chamberlain Memorial Grants have been • awarded to assist part-time students.
CLAYTON DEWANDRE SERVICE MANUALS
riA LARGE amount of service literature covering its products has been brought up to date by the Clayton Dewandre Co., Ltd., Titanic Works, Lincoln. The manuals relating to air pressure, vacuum braking, commercialvehicle heating and ventilating, automatic lubrication and rotary exhausters are now complete and form a comprehensive survey of the subjects. Much of this literature has already been distributed to vehicle manufacturers and engineers in the passenger-transport field, and a similar distribution is being made to many members of the Institute of Road Transport Engineers. Others interested may obtain them direct from the company.