FARM MECHANIZATION MAKES BIG STRIDES IN two years, the number
13th August 1948
Page 25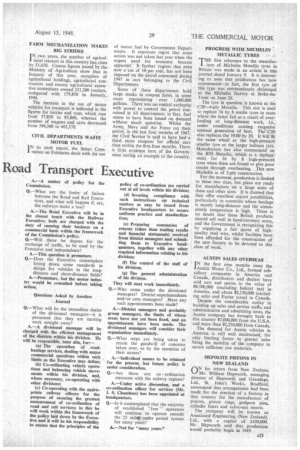 Page 25, 13th August 1948 —
FARM MECHANIZATION MAKES BIG STRIDES IN two years, the number
Close
of agricul tural tractors in this country has risen by 51,430. Census figures issued by the Ministry of Agriculture show that in January of this year, occupiers of agricultural holdings, agricultural contractors and county agricultural executive committees owned 231,280 tractors, compared with 179,850 in January, 1946.
The increase in the use of motor vehicles for transport is indicated in the figures for lorries and vans, which rose from 57,850 to 85,860, whereas the number of wagons and carts decreased from 596,360 to 463,370.
CIVIL DEPARTMENTS WASTE MOTOR FUEL IN its sixth report, the Select Committee on Estimates deals with the use of motor fuel by Government Departments. It expresses regret that some action was not taken last year when the urgent need for economy became apparent. It further regrets that even now a cut of 10 per cent, has not been imposed on the petrol consumed during 1947 in cars belonging to the Civil Departments.
-SOme • of these departments hold large stocks in coupon form, in some cases representing over 1,000,000 gallons. There was no central authority with power to control the petrol consumed in all departments; in 'fact, fuel seems to have been issued on demand without much question. Whilst the Army, Navy and Air Force cut their petrol, in the last four months of 1947, the Civil 'Service is said to have had a third. more coupons for official cars than within the first.four months. There is little evidence here of the Government setting an example to the country.
PROGRESS WITH MICHELIN METALLIC TYRES
'THE first reference to the manufac1 ture of Michelin Metallic tyres in Britain was made in an article in this journal dated January 9. It is interesting to note that production has now commenced—in fact, the first tyre of this type was ceremoniously christeled at, the Michelin factory at Stoke-onTrent on June 26.
The tyre in question is known as the C20-4-ply Metallic. This size is used to replace 36 by 8-textile tyres in cases where the latter fail as a result of overloading or long-distance work, i.e., under conditions causing excessive internal generation of heat. The°C20 also replaces the 10.00 by 20. It will fit the .same wheel as the high-pressure smaller tyre or the larger balloon tyre. Manufacture -has also Commenced on the B20. Metallic; which is a replace, ment for 36 by 8 high-pressure tyres when these are found to give poor results through overheating.' This new Michelin is of 2-ply construction.
For the moment, production is limited to these two sizes, but plans are ready for manufacture on a large scale of these and other sizes. It is claimed that they offer excellent export possibilities, particularly to countries where haulage is mostly long-distance and the atmospheric temperature is high. There is no doubt that these British products should sell well in hard-currency areas, and the Government is recognizing this by supplying a fair quota of highquality steel wire, whilst facilities have been afforded for the construction of the new factory to be devoted to this class of work.
AUSTIN SALES OVERSEAS I N the first nine months since the Austin Motor Co., Ltd., formed subsidiary companies in America and Canada, distributors and dealers have sold cars and spares to the value of $8,500,000 (excluding federal tax) in America, and about $3,250,000 (excluding sales and Excise taxes) in Canada.
Despite the considerable outlay in building up sales and service staffs, and administrative and advertising costs, the Austin company has brought back to this country $7,000,000 from the U.S.A. and more than $2,250,000 from Canada.
The demand for Austin vehicles inAmerica is still well maintained, the only limiting factor to greater sales being the inability of the company to secure sufficient raw materials.
HEPOLITE PISTONS IN NEW ZEALAND
(IN his return from New Zealano, '../ Mr. William Hepworth, managing director of Hepworth and Grandage, Ltd., St. John's Works, Bradford, announced that arrangements had been made for the erection of a factory in that country for the manufacture of pistons, piston rings, gudgeon pins, cylinder liners and valve-seat inserts.
The company will be known as Associated Engineering (New Zealand), Ltd., with a capital of £100,000. Mr. Hepworth said that production Would probably begin in 1949.