Fines May Raise Cost of Living
13th August 1948
Page 22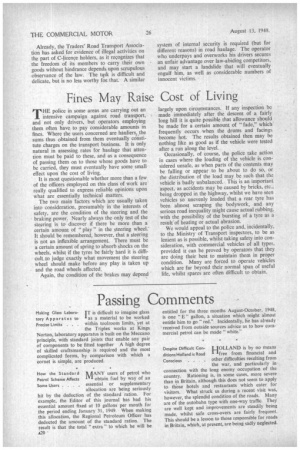 Page 22, 13th August 1948 —
Fines May Raise Cost of Living
Close
"TINE police in some areas are carrying out an 1 intensive campaign against road transport, and not only drivers, but operators employing them often have to pay considerable amounts in fines. Where the users concerned are hauliers, the sums thus obtained from them eventually constitute charges on the transport business. It is only natural in assessing rates for haulage that attention must be paid to these, and as a consequence of passing them on to those whose goods have to be carried, they must eventually have some small effect upon the cost of living.
It is most questionable whether more than a few of the officers employed on this class of work are really qualified to express reliable opinions upon what are essentially technical matters.
The two main factors which are usually taken into consideration, presumably in the interests of safety, are the condition of the steering and the braking power. Nearly always the only test of the steering is to discover if there be more than a certain amount of " play " in the steering wheel: It should, be remembered, however, that a steering is not an inflexible arrangement. There must be a certain amount of spring to absorb shocks on the wheels, whilst if the tyres be fairly hard it is difficultto judge exactly what movement the steering wheel should make before any play is taken up and the road wheels affected.
Again, the condition of the brakes may depend largely upon circumstances. If any inspection be made immediately after the descent of a fairly long hill it is quite possible that allowance should be made for a certain amount of "fade," which frequently occurs when the drums and facings become hot. The results obtained then may be nothing like as good as if the vehicle were tested after a run along the level.
Occasionally, of course, the police take action in cases where the loading of the vehicle is considered unsafe, as when parts of the contents may be falling or appear to be about to do so, or the distribution of the load may be such that the vehicle is badly unbalanced. This is an important aspect, as accidents may be caused by bricks, etc., being dropped in the highway, whilst we have seen vehicles so unevenly loaded that a rear tyre has been almost scraping the bodywork, and any serious road inequality might cause actual rubbing. with the possibility of the bursting of a tyre as a result-of heating or actual abrasion.
We would appeal to the police and, incidentally, to the Ministry of Transport inspectors, to be as lenient as is possible, whilst taking safety into consideration, with commercial vehicles of all types. provided it can be proved by operators that they are doing their best to maintain them in proper condition. Many are forced to operate vehicles which are far beyond their normal span of useful life, whilst spares are often difficult to obtain.