Supplies of Liquid Fuel.
13th August 1914
Page 2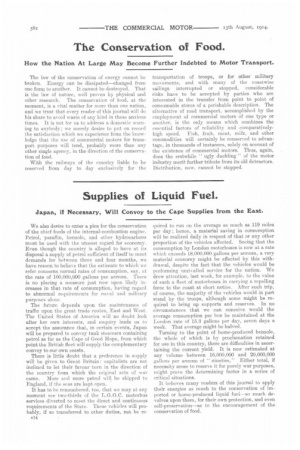 Page 2, 13th August 1914 —
Supplies of Liquid Fuel.
Close
Japan, if Necessary, Will Convoy to the Cape Supplies from the East.
We also desire to enter a plea for the conservation of the chief foods of the internal-combustion engine. Petrol, paraffin, benzole, and other hydrocarbons must be used with the utmost regard for economy. Even though the country is alleged to have at its disposal a supply of petrol sufficient of itself to meet demands for between three and four months, we have reason to believe that the estimate to which we refer concerns normal rates of consumption, say, at the rate of 100,000,000 gallons per annum. There is no placing a measure just now upon likely increases in that rate of consumption, having regard to abnormal requirements for naval and military purposes alone.
The future depends upon the maintenance of traffic upon the great trade routes, East and West. The United States of America will no doubt look after her own interests, and enquiry leads us to accept the assurance that, in certain events, Japan will he prepared to convoy tank steamers containing petrol as far as the Cape of Good Hope, from which point the British fleet will supply the complementary convoy to our own coasts.
There is little doubt that a preference in supply will be given to Great Britain: capitalists are not inclined to let their favour turn in the direction of the country from which the original acts of war came. More and. more petrol will be shipped to England, if the seas are kept open.
It has to be remembered, too, that we may at any moment see two-thirds of the L.G.O.C. motorbus services diverted to meet the direct and continuous requirements of the State. These vehicles will probably, if so transferred to other duties, not be re quired to run on the average as much as 119 miles per day ; hence, a material saving in consumption will be realized daily in respect of that or any other proportion of the vehicles affected. Seeing that the consumption by London motorbuses is now at a rate which exceeds 18,000,000 gallons per annum, a very material economy might be effected by this withdrawal, despite the fact that the vehicles would be performing unrivalled service for the nation. We drew attention, last week, for example, to the value of such a fleet of motorbuses in carrying a repelling force to the coast at short notice.. After such trip, of course, the majority of the vehicles would in part stand by the troops, although some might be required to bring up supports and reserves. In no circumstances that we can conceive would the average consumption per bus be maintained at the London rate of 15.3 gallons per day, seven days a week. That average might he halved.
Turning to the point of home-produced benzole, the whole of which is by proclamation retained for use in this country, there are difficulties in ascertaining the current yield. It is now estimated at any volume between 16,000,000 and 20,000,000 gallons per annum of " nineties," Either total, if necessity arose to reserve it for purely war purposes, might prove the determining factor in a series of critical situations.
It behoves many readers of this journal to apply their energies as much to the conservation of imported or home-produced liquid fuel—so much devolves upon them, for their own protection, arid even self-preservation—as to the encouragement of the conservation of food.