"For Hire" Lights on Taxicabs.
13th April 1916
Page 6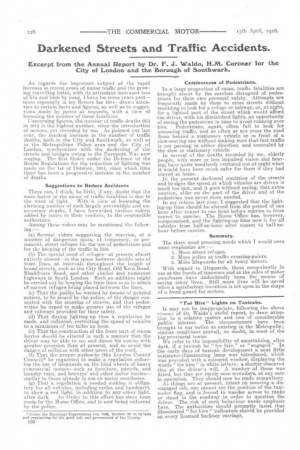 Page 6, 13th April 1916 —
"For Hire" Lights on Taxicabs.
Close
It may not be inappropriate, following the above rAqum... of Dr. Waldo's useful report, to draw attention to a relative matter and one of considerable public interest. The circumstances have been brought to our notice as existing in the Metropolis ; similar conditions prevail, no doubt, in. most of the big provincial towns. We refer to the impossibility of ascertaining, after dark, if a taxicab be "for hire" or "engaged." In the early days of taxicab development a neat little taximeter-illuminating lamp was introduced, which was provided with a coloured window, displaying the words "for hire" in white letters ; a shutter obscured this at the driver's will. A number of these was fitted, but they are rarely seen nowadays, at any rate in operation. They should now be made compulsory. As things are at present, intent on securing a disengaged cab, one cannot see the position of the taximeter flag, and is forced to wander across to ranks or stand in the roadway in order to question the driver. The risk of such behaviour needs emphasis here. The authorities should promptly insist that illuminated "for hire" indicators should be provided on every licensed hackney carriage.