Our Campaign Comforts Fund.
13th April 1916
Page 17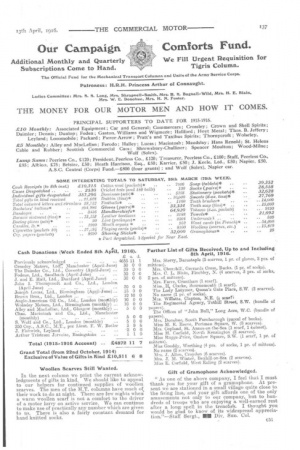 Page 17, 13th April 1916 —
Our Campaign Comforts Fund.
Close
Additional Monthly and Quarterly Subscriptions Come to Hand. We Fill Urgent Requisition for Tigris Column.
The Official Fund for the Mechanical Transport Columns and Units of the Army Service Corps.
Patroness: H.R.H. Princess Arthur of Connaught.
Ladies Committee : Mrs. S. S. Long, Mrs. Shrapnell-Smith, Mrs. R. N. Bagnall-Wild, Mrs. H. E. Blain. Mrs. W. E. Donohue, Mrs. H. N. Foster.
THE MONEY FOR OUR MOTOR MEN AND HOW IT COMES.
PRINCIPAL SUPPORTERS TO DATE FOR 1915-1916. .E10 Monthly: Associated Equipment ; Car and General; Commercars ; Crossley ; Crown and Shell Spirits; Daimler ; Dennis ; Dunlop ; Foden ; Gaston, Williams and Wigniofe ; Hanford; Hoyt Metal ; Thos. B. Jeffery; Leyland; Locomobile; Packard; Pierce-Arrow; Pratt's and Taxibus Spirits; Thornycroft ; WoIseley.
£5 Monthly : Alley and MacLellan; Ferodo ; Halley; Lucas ; Macintosh ; Maudslay; Hans Renold; St. Helens Cable and Rubber ; Scottish Commercial Cars ; Shrewsbury-Challiner; Spencer Moulton; Wood-Mike; Wolf (Solex). Lump Sums: Peerless Co., £120; President, Peerless Co., £120; Treasurer, Peerless Co.. £100; Staff, Peerless Co., £85; Albioa, £75; Belsize, £.50; Heath Harrison, Esq., £50; Karrier, £50; J. Keck, Ltd., £50; Napier, £50. A.S.C. Central (Corps) Fund.--£800 (four grants) ; and Wolf (Solex), Napier car.
In the next column we print the current acknowledgments of gifts in kind. We should like to appeal to our helpers for continued supplies of woollen scarves. The men of the M.T. columns have much of their work to. do at night. There are few nights when a warm woollen scarf is not a comfort to the driver of a motor lorry on active service. We can continue to make use of practically any number which are given to us. There is also a fairly constant demand for hand knitted socks.
Gift of Gramophone Acknowledged.
"As one of the above company, I feel that I must thank you for your gift of a gramophone. At present we are stationed in a small village quite close to the firing line, and your gift affords one of the only amusements not only to our company, but to hundreds of troops who are enjoying a well-earned rest after a long spell in the trenches. I thought you would be glad to know of. its widespread appreciation."—Staff Sergt" 11111 Div. Sun. Col.