Our Special Laundry Trades Number.
13th April 1905
Page 4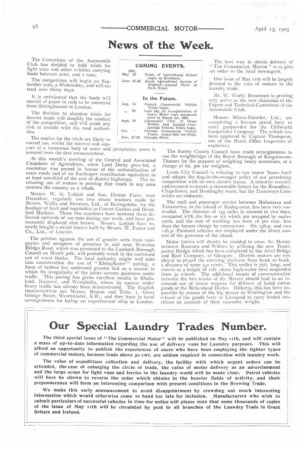 Page 4, 13th April 1905 —
Our Special Laundry Trades Number.
Close
The third special issue of "The Commercial Motor" will be published on May iith, and will contain a mass of up-to-date information regarding the use of delivery vans for Laundry purposes. This will afford an opportunity to publish the experiences of users who have been employing the lighter types of commercial motors, because loads above 30 cwt. are seldom required in connection with laundry work.
The value of expeditious collection and delivery, the facility with which urgent orders can be attended, the ease of enlarging the circle of trade, the value of motor delivery as an advertisement and the large scope for light vans and lorries in the laundry world will be made clear. Petrol vehicles will here be shown to reverse the order which obtains in the heavier fields of activity, and their preponderance will form an interesting comparison with present conditions in the Brewing Trade.
We make this early announcement to avoid disappointment by crowding out much interesting Information which would otherwise come to hand too late for inclusion. Manufacturers who wish to submit particulars of successful vehicles in time for notice will please note that some thousands of copies of the issue of May tith will be circulated by post to all branches of the Laundry Trade in Great Britain and Ireland.