Beeching Under Fire by Traci nion Congress
12th March 1965
Page 36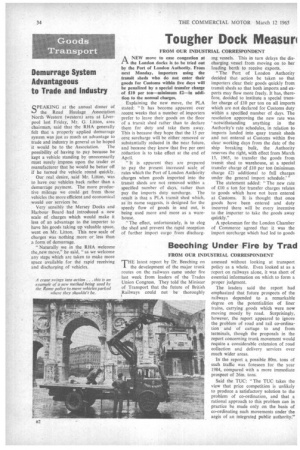 Page 37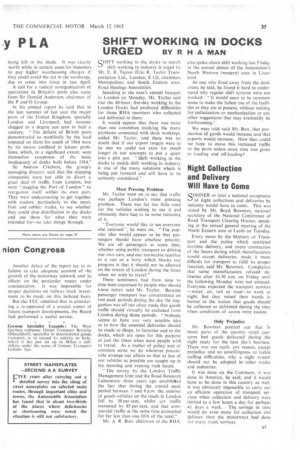 Page 36, 12th March 1965 —
Beeching Under Fire by Traci nion Congress
Close
FROM OUR INDUSTRIAL CORRESPONDENT
THE latest report by Dr. Beeching on the development of the major trunk routes on the railways came under fire last week from leaders of the Trades Union Congress. They told the Minister of Transport that the future of British Railways could not be thoroughly
assessed without looking at transport policy as a whole. Even looked at as a report on railways alone, it was short of essential information on which to form a proper judgment.
The leaders said the report had emphasized that future prospects of the railways depended to a remarkable degree on the potentialities of liner trains, carrying goods which were now moving mostly by road. Surprisingly, however, the report appeared to ignore the problem of road and rail co-ordination and of cartage to and from terminals, though the proposals in the report concerning trunk movement would require a considerable extension of road collection and delivery services over much wider areas.
In the report a possible 80m. tons of such traffic was foreseen for the year 1984, compared with a more immediate prospect of 26m. tons.
Said the TUC: "The TUC takes the view that price competition is unlikely to produce a satisfactory solution to the problem of co-ordination, and that a rational approach to this problem can in practice be made only on the basis of co-ordinating such movements under"the aegis of an integrated public authority."
Another defect of the report lay in its failure to take adequate account of The growth of the motorway network and its effects on the particular routes under consideration. It was' impossible or proper decisions on railway track investment to be made on this isolated basis.
But the TUC admitted that in stimulating a re-appraisal of a crucial aspect of • future transport developments, the Board had performed a useful service.
German Specialist Expands: The West German company Union Transport Betriebe (Diisseldorf.), specialist in international goods transport, is to extend its activity to Italy, where it has just set up in Milan a subsidiary under the name of Unione Transport Italians Spa.