3BG may get .eopards with G2
12th July 1974
Page 25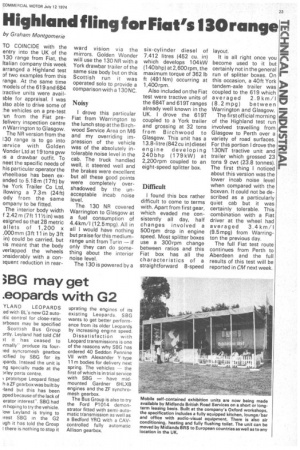 Page 25, 12th July 1974 —
3BG may get .eopards with G2
Close
YLAND LEOPARDS ed with BL's new G2 autotic control for close-ratio arboxes may be specified
Scottish Bus Group 3rtly. Leyland had told CM )t it has ceased to mally" produce its four?ed syncromesh gearbox ?cified by SBG for its )pards. Instead the unit is ng specially made at the Dr-ley parts centre.
1 prototype Leopard fitted h a ZF gearbox was built by land but this has been pped because of the lack of erator interest". SBG had ,n hoping to try the vehicle. low Leyland is trying to irest SBG in the G2 ugh it has told the Group t. there is nothing to stop it
uprating the engines of its existing Leopards. SBG wants to get better performance from its older Leopards by increasing engine speed.
Dissatisfaction with Leopard transmissions is one of the reasons why SBG has ordered 40 Seddon Pennine VII with Alexander Y-type 11 m bodies for delivery next spring. The vehicles — the first of which is in trial service with SBG — have midmounted Gardner 6HLXB engines and the ZF synchromesh gearbox.
The Bus Group is also to try the Ford P1014 demonstrator fitted with semi-automatic transmission as well as a Bedford YRQ with a CAVcontrolled fully automatic Allison gearbox.