Ham loses EO.5m al investigation
12th August 1993
Page 4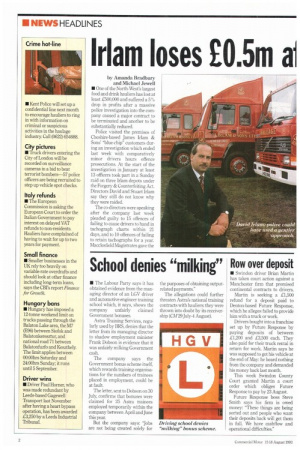 Page 5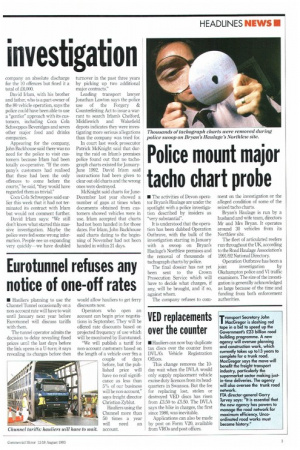 Page 4, 12th August 1993 —
Ham loses EO.5m al investigation
Close
by Amanda Bradbury and Michael Jewell • One of the North-West's largest food and drink hauliers has lost at least £500,000 and suffered a 5% drop in profits after a massive police investigation into the company caused a major contract to be terminated and another to be substantially reduced.
Police visited the premises of Cheshire-based James Ham & Sons' "blue-chip" customers during an investigation which ended last week with comparatively minor drivers hours offence prosecutions. At the start of the investigation in January at least 13 officers took part in a Sunday raid on three Ham depots under the Forgery & Counterfeiting Act. Directors David and Stuart Ham say they still do not know why they were raided.
The co-directors were speaking after the company last week pleaded guilty to 15 offences of failing to cause drivers to hand in tachograph charts within 21 days, and to 10 offences of failing to retain tachographs for a year. Macclesfield Magistrates gave the company an absolute discharge for the 10 offences but fined it a total of £6,000.
David Irlam, with his brother and father, who is a part-owner of the 80 vehicle operation, says the police could have been able to use a "gentler" approach with its customers, including Coca Cola Schweppes Beveridges and seven other major food and drinks companies.
Appearing for the company, John Backhouse said there was no need for the police to visit customers because Irlam had been totally co-operative. "If the company's customers had realised that these had been the only offences to come before the courts," he said, "they would have regarded them as trivial."
Coca Cola Schweppes said earlier this week that it had not terminated its contract with Irlam but would not comment further.
David Ham says: "We still don't know what started this massive investigation. Maybe the police were fed some wrong information. People see us expanding very quickly—we have doubled turnover in the past three years by picking up two additional major contracts."
Leading transport lawyer Jonathan Lawton says the police use of the Forgery & Counterfeiting Act to issue a warrant to search Irlam's Chelford, Middlewich and Wakefield depots indicates they were investigating more serious allegations than the company was tried for.
In court last week prosecutor Patrick McKnight said that during the raid on Mann's premises police found out that no tachograph charts existed for JanuaryJune 1992. David Irlam said instructions had been given to clear out old charts and the wrong ones were destroyed.
McKnight said charts for JuneDecember last year showed a number of gaps at times when documents obtained from customers showed vehicles were in use. Irlam accepted that charts had not been handed in for those dates. For Irlam, John Backhouse said charts dating to the beginning of November had not been handed in within 21 days.