Crime hot-line
12th August 1993
Page 4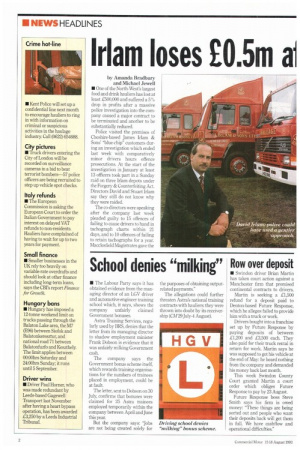 Page 4, 12th August 1993 —
Crime hot-line
Close
• Kent Police will set up a confidential line next month to encourage hauliers to ring in with information on criminal or suspicious activities in the haulage industry. Call (0622) 654688.
City pictures
• Truck drivers entering the City of London will be recorded on surveillance cameras in a bid to beat terrorist bombers-57 police officers are being recruited to step up vehicle spot checks.
Italy refunds
• The European Commission is asking the European Court to order the Italian Government to pay interest on delayed VAT refunds to non-residents. Hauliers have complained of having to wait for up to two years for payment.
Small finance
• Smaller businesses in the UK rely too heavily on variable-rate overdrafts and should look at other finance including long-term loans, says the CBI's report Finance for Growth.
Hungary bans
• Hungary has imposed a 12-tonne weekend limit on trucks passing through the Balaton Lake area, the M7 (E96) between Siofok and Balatonkeresztur, and national road 71 between Balatonfuzfo and Keszthely. The limit applies between 00:00hrs Saturday and 24:00hrs Sunday; it runs until 5 September.
Driver wins
• Driver Paul I Iorner, who was made redundant by Leeds-based Gagewell Transport last November after having a heart bypass operation, has been awarded 13,250 by a Leeds Industrial Tribunal.