ONE HEARS
12th August 1919
Page 3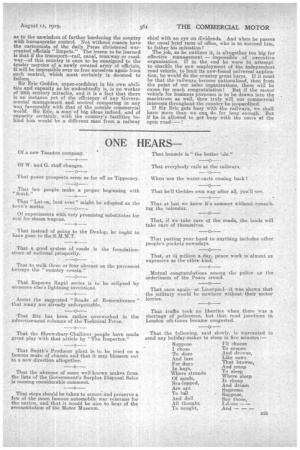 Page 3, 12th August 1919 —
ONE HEARS
Close
Of a new Taunton company. Of W. and G. staff changes.
That peace prospects seem as far off as Tipperary.
That few people make a proper beginning with "finish."
That "Lut-on, loot ever" might be adopted as the town's motto. 0 Of experiments with very promising substitutes for coal for steam wagons.
That instead of going to the Dunlop, he Might to has-e gone to the.S.M.M.T.
That a good system of roads is the foundationstone of national prosperity.
That to walk three or four abreast on the pavement betrays the "country cousin."
That Rapsons Rapid series is to be eclipsed by someone else's lightning inventions.
Anent -the suggested "Roads of Remembrance" that many are already unforgettable.
That R31 has been rather overworked in the advertisement columns of the Technical Press.
That the Shrewsbury-Ohalliner people have made great play with that article by "The Inspector."
That Smith's Producer plant is to be tried on a famous make of chassis and that it may blossom out in a new direction altogether.
That the absence of some well-known makes from the lists of the Government's Surplus Disposal Sales is causing considerable comment.
That steps should be taken to secure and preserve a few of the more famous automobile war veterans for the nation, and that it would be nice to hear of the reconstitution of the Motor Museum. That benzoic is "the better 'ole."
That everybody' rails at the railways.
When are the water-carts coming back ?
That he'll Geddes own way after all, you'll see.
That, if we take care of the roads, the loads will take care of themselves.
That putting your hand to anything includes other. people's pockets nowadays.
That, at 4A million a.day, peace work is almost as expensive as the'othee kind.
_Mutual congratulations among the police on the orderliness of the Peace crowd.
That once again—at-Liverpool—it was shown that the military would be nowhere without their motor lorries.
That traffic took no liberties when there was a shortage of ielicemen, but that road junctions in London oft-times became congested.
That the following, said slowly, is warranted to send any holiday-maker to sleep in five minutes:—