For DRIVERS, MECHANICS & FOREMEN.
12th August 1919
Page 23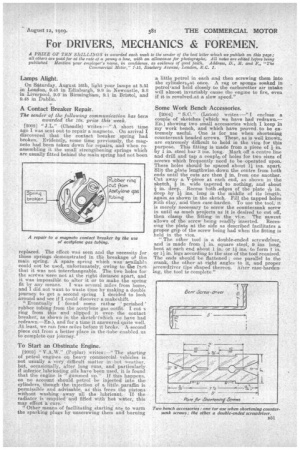 Page 23, 12th August 1919 —
For DRIVERS, MECHANICS & FOREMEN.
Close
• A .PRIZE OF TEN ShILLINGS is awarded each week to the sender of the best letter which we publish on this page ; all others are paid /or at the rate of a penny a lane, with an allowarice for photographs. All notes are edited before being published Mention your employer's name, in confidence, as evidence of good faith. Address, D., M. and P., "The Cononerciai Motor," 7-15, Rosebery Avenue,London, E.C. 1.
Lamps Alight.
On Saturday, August 16th, light your lamps at 8.5-1 in London, 9.48 in Edinburgh, 9.9 in Newcastle, 9.8 in Liverpool, 9.0 in Birmingham, 9.1 in Bristol, and 9.48 in Dublin.
A Contact Breaker Repair.
The sender of the following communication has been • awarded the 10s. prize this week.
[2002] "J.L." (Cheadle) writes :—"A short time ago I was sent out to repair a'magneto. On arrival I discovered that the contact breaker spring had broken. Evidently, some time previously, the magneto had been taken down for repairs, and when reassembling it the small strengthening springs which are usually fitted behind the main spring had not been
replaced. The effect wai seen and tlie necessity for those springs demonstrated in the breakage of the main spring. A spare spring which was agrailabh could not be used, unfortunately, owing to tie f.s,lt that it was. not interchangeable. The two holes for the screws were not at the right distance apart, and it was impossible to alter it or to make the spring fit by any means. I was several miles from home, and I did not want to waste time by making a double journey to get a second spring I decided to look around and see if I could discovera makeshift.
"Eventually I found some rather ' perished ' rubber tubing from the acetylene gas outfit I cut a ring from. this and slipped it over the contact breaker, as shown in. the sketchs(which we have had redrawn.—En.), and for a time it answered quite well. At least, we ran four miles before it broke. A-second piece out from a better place in the;tube enabled us to complete our journey." '
To Start an Obstinate Engine.
[2003] "V.A.W." (Poplar) writes:—" The starting of petrol -engines on heavy commercial vehicles is not usually a, very difficult matter in hot weather, but, occasionally, after long runs, and particularly if inferior lubricating oils have been used, it is found that the engine is " gummed up:" if this happens, on no account, should petrol be injected into the cylinders, though the injection of a. little paraffin is permissible and advisable, aA this frees the pistons without washing , away all the. lubricant. If the radiator is emptied' and filled With hot water, this may effect eure:
"Other means of facilitating starting are to warm the sparking plugs by -unscrewing them and burning a little petrol in each and then screwing them into the cylindersot once. A rag or sponge soaked in petrol:and held closely to the carburetter air intake will almost invariably cause the engine to fire, even if it is revolved:at a slow speed."
, Some Work Bench Accessories.
[20041 " S.C." (Luton) writes I enclose a couple of sketches [Which we have had redrawn.— En.] showing two small accessories which keep in my work bench, and which have proved-to be extremely useful. One is for use when shortening countersunk headed screws. These, as is well known, are extremely difficult to hold in the vice for this purpose. This fitting is made from a piece of by 1 in. steel bar 3 ins. long. Mark off a centre line and drill and tap a couple, of holes for two sizes of screws which frequently need to be (operated upon. These holes should be spaced about 1/ ins. apart. Slit the ,plate lengthwise, down the centre from both ends until the cuts are then in. from one another. Cut away a V-piece at each end, as shown in the
sketch, in. wide tapered to nothing, and about
in. deep. Recess both -edges of the plate 114in. deep by 1-i ins, long in the middle of its length, again as shown in the sketch. Fill the tapped holes kith clay, and then case-harden. To use the tool, it is merely necessary to screw the countersunk screw in until as much projects as it is desired to 'cut off, then clamp the fitting in the vi.e. The sawcut allows of the screw being readily inserted. Recessing the plate at the side as described facilitates a proper grip of the screw being had when the fitting is held in the vice.
"The other tool is a double-ended screwdriver, and is made from i in. square steel, 9 ins long, bent at each end about 1 in. or 1 ins. to form 1 in. or i in. legs according to the size of the tool required. The ends should be flattened ; one parallel to the crank, the otherat right angles to it, and proper screwdriver tips shaped thereon. Alter case-har&ning, the tool is complete."