Bus with Chassis less . Semt—trailer
12th April 1957
Page 45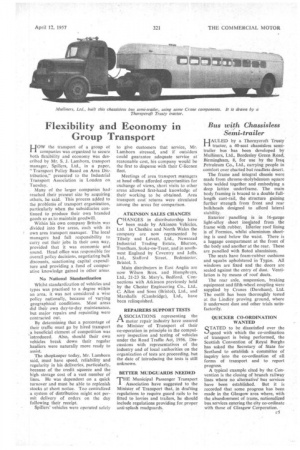 Page 45, 12th April 1957 —
Bus with Chassis less . Semt—trailer
Close
HAULED by a Thornycroft Trusty tractor, a 40-seat chassisless semitrailer bus has been developed by Mulliners, Ltd., Bordesley Green Road, Birmingham, 8, for use by the Iraq Petroleum Co., Ltd., carrying people in comfort over charted but roadless desert.
The frame and integral chassis were made from chrome-Molybdenum square tube welded together and embodying a deep lattice underframe. The main body framing is braced to a double fulllength cant-rail, the structure gaining further strength from front and rear bulkheads designed to afford lateral stability.
Exterior panelling is in 16-gauge light-alloy sheet insulated from the frame with rubber. interior roof lining is of Formica, whilst aluminium sheeting is used below the waist. There is a luggage compartment at the front of the body and another at the rear. These are panelled with fluted aluminium.
The seats have foam-rubber cushions and squabs upholstered in Tygan. All windows are fixed and the doors are sealed against the entry of dust.. Ventilation is by means of roof ducts.
The rear axle, suspension, braking equipment and fifth-wheel coupling were supplied by Cranes (Dereham), Ltd. The outfit has been thoroughly tested at the Lindley proving ground, where it underwent dust and other trials satisfactorily.
QUICKER CO-ORDINATION WANTED
STATED to be dissatisfied over the speed with which the co-ordination of transport is being performed, the Scottish Convention of Royal Burghs has asked the Secretary of State for Scotland to establish a committee of inquiry into the co-ordination of all forms of transport and to report progress.
A typical example cited by the Convention is the closing of branch railway lines where no alternativebus services have been established. But it is recorded that some progress has been made in the Glasgow area where, with the abandonment of trams, nationalized bus services entering the city co-ordinate with those of Glasgow Corporation.