Makers' Lorries for Drivers' Contest ?
12th April 1957
Page 44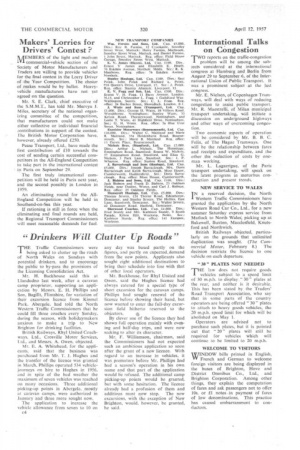 Page 44, 12th April 1957 —
Makers' Lorries for Drivers' Contest ?
Close
AEMBERS of the light and medium al commercial-vehicle section of the Society of Motor Manufacturers and Traders are willing to provide vehicles for the final contest in the Lorry Driver of the Year Competition. The choice of .makes would be by ballot. Heavyvehicle manufacturers have not yet agreed on-the qUestion.
• Mr. S, E. Clark, chief executive of the S.M.M.T., has told Mr. Mervyn 1. Miles, secretary of the national organizing committee of the competition, that manufacturers could not make either collective or individual financial contributions in support of. the contest. The British •Motor Corporation have, however, already offered £250.
Pease Transport, Ltd., have made the first contribution of £10 towards the cost of sending certain successful competitors in the All-England Competition to take part in the international contest in Paris on September 29.
The first truly international competition will be held in Paris next year, and the second possibly in London in 1959, An eliminating round for the AllEngland Competition will be held in Southend-on-Sea this year.
If rationing is still in force when the eliminating and final rounds are held, the Regional Transport Commissioners will meet reasonable demands for fuel.
NEW TRANSPORT COMPANIES Wm, Eurntss and Sons, Ltd. Cap. £5,000. Dirs.: Roy B. Furniss, 12 Crookstile, Smedley Street West. Matlock; Harry Furniss, Marbrock, Smedley Street West, Matlock. and Daniel Furniss, i John Street, Matlock. Reg. office: Field House Garage, Smedley Street West. Matlock.
E. V. James (Hayes), Ltd. Cap, £100. Dirs. Ernest V James and Elizabeth E. Heath, 76 Eskdale Avenue, Northolt Mddx. Sec,: R. K Matthews. Reg. office: 76 Eskdalc Avenue Northolt.
Stanley Haulage, Ltd. Cap. f100, Mrs,: Saul Polak, John Points and Richard 'L. Polak, 216 Queen's Drive. Liverpool. [5. See: J. Polak. Reg. office: Stanley Abattoir. Liverpool. 13.
C. V. Fogg and Son, Ltd. Cap, £500. Dirt,: Ernest V. H. Fogg, El Barry Avenue, London. N.15, and Chris-ropher I.. Fogg, 1 Guildford Way Wallington, Surrey. See.: C. L. Fogg. Reg. office: 24 Baches Street, Shoreditch. London. C. I.
3. Watts and Sons (Trartsport1, Ltd. Cap. 11,060. Dirs.: George H. Watts. 10 Villiers Road, Woodthorpc. Nottingham; Stanley Watts. 33 Kelvin Road, Thorneywood, Nottingham. and Leslie T. Watts, 41 Highfield Drive, Nottingham. Sec.: G. H. Watts. Reg. office: 5a Blue Coat Street. Nottingham.
Racelsior Motorways (Bournemouth), Ltd. Cap. -C10,000. Dirs.: Walter C. Maitland and Marie B. Maitland. 554 Holdenhurst Road. Bourne
mouth. Sec.: Marie B. Maitland Reg, office: 13 Gervis Place, Bournemouth.
Nichols Bros. (Stamford). Ltd. Cap. £3,000. Dirs.: Arthur L. Nichols, The Hermitage, Empingham Road, Stamford; Ernest W. Nichols, 57 Empunthara Road, Stamford, and Eliza G. Nichols, 3 Park Lane, Stamford. Sec.: I. P. Wharton. Reg. office: Station Road, Stamford.
Barrnelounk and Sons Ilitudage). Eki. Car). £5.000. Dirs.: Joseph Barraelough, Mrs. Doris Barraelough and Keith Barraclough, Moss House, Cumberworth, Huddersfield. See.: Doris Barradough, Reg. office: Moss House, Cumberworth.
5Biskton and Sons, Ltd. Cap. 1100. Dirs.: Jack Bishton and Frank D. Bisinort, 25 Oakham Fields, near Dudley, Worm and Carl I. Bishton. Reg. office: 25 Oakharn Dunseroft Haulage, Ltd. Cap. £5.000. Dirs.: Thomas Severn, 154 Thorne Road, Edenthorpe, Doncaster. and Stanley Severn, The Honks, East Lac, Stamforth, Doncaster. Sec.: Walter Severn, 42 Doncaster Road. Hatfield, Doncaster.
Sherwood Coaches., Lid. Cap. £4,000.
Fred Sturdy and Mrs. Kathleen Sturdy, 9 South Parade. Kilton Hill, Worksop, Notes. See.: Kathleen Sturdy. Reg. office: 141 Eastitme. Worksop,
Tags
People
:
Walter Severn
,
Frank D. Bisinort
,
Carl I. Bishton
,
Mervyn
,
Walter C. Maitland
,
Miles
,
Ernest V James
,
John Points
,
Leslie T. Watts
,
E. Clark
,
Dudley
,
Doris Barraelough
,
Ernest W. Nichols
,
Ernest V. H. Fogg
,
Eliza G. Nichols
,
Kathleen Sturdy
,
Arthur L. Nichols
,
Elizabeth E. Heath
,
Joseph Barraelough
,
Daniel Furniss
,
George H. Watts
,
Worm Bishton
,
Jack Bishton
,
Sherwood Coaches
,
Harry Furniss
,
L. Polak
,
Fred Sturdy
,
Marie B. Maitland
,
Roy B. Furniss
,
Thomas Severn
,
Saul Polak