Micrograms . . .
12th April 1957
Page 43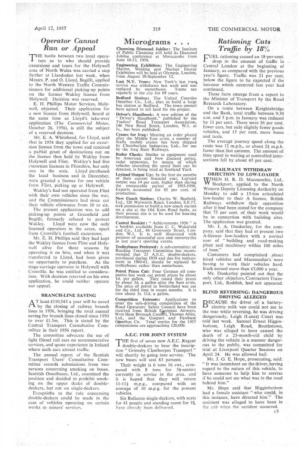 Page 43, 12th April 1957 —
Micrograms . . .
Close
Cleansing Diamond Jubilee: The Institute of Public Cleansing will hold its Diamond Jubilee conference at Morecambe from June 10-13, 1958.
Engineering Exhibition: The Engineering Marine, Welding and Nuclear Energy Exhibition will be held at Olympia. London, from August 29-September 12.
Last N.Y. Tram: New York's last tram, service was withdrawn last week and was replaced by motorbuses. Trams ran regularly in the city for 69 years.
Bedford Station: The United Counties Omnibus Co., Ltd., plan to build a large bus station at Bedford. The town council have agreed to sell land fer the project.
Driver's Handbook: A new edition of the " Driver's Handbook," published by the Traders' Road Transport Association, 146 New Bond Street, London, W.1, at ls., has been published.
Cranes for Iraq : Meeting an order placed after the Middle East crisis, a number of Staffa mobile cranes has been shipped by Chamberlain Industries, Ltd., for use by the Iraq State Railways.
Radar Check: Similar to equipment used by American and New Zealand police, radar apparatus, by means of which vehicles exceeding the speed limit can be detected, is being tried at Scotland Yard.
Leyland Output Up: In the first six months of their current financial year, Leyland output was 14 per cent, higher than during the comparable period of 1955-1956. Exports accounted for 65 per cent. of production.
New Coach Station: Charles W. Banfield, Ltd., 326 Walworth Road, London, S.E.I7, seek permission to build a new coach station on_ a site at the Old Kent Road baths, as their present site is to be used for housing development.
Castro' Booklet : " Achievements 1956 "is a booklet available from C. C. Wakefield and Co., Ltd., 46 Grosvenor Street, ondon, W.1. It is well illustrated with pictures of successful cars and motorcycles in last year's sporting events.
Trolleybuses Preferred: A sub-committee of Reading Transport Committee has recommended that 25 A.E.C. double-deckers, purchased during 1939 and due for replacement in 1960-61, should be replaced by trolleybuses rather than motorbuses.
Petrol Prices Cut: Four German oil companies last week cut petrol prices by about ld. per gallon. They raised their prices by about 3d. a gallon after the Suez crisis. The price of petrol in Switzerland was cut for the third time in recent months. It is now about 3s. 11d, a gallon.
Competition Entrants: Applications to enter the safe-driving competition of the Road Operators' Safety Council have been received from British Em-opean Airways, West Ham Borough CoOrd, Thomas Allen, Ltd., and the Gosport arid Fareham Omnibus Co. Total entries for the 1957 competitions are approaching 120,000.
A.E.C. FOR JOINT SYSTEM
THE first of seven new A.E.C. Regent double-deckers to bear the inscription "Grimsby Cleethorpes Transport" will shortly be going into service. The new buses will seat 63 persons. Their weight is 6 tons 16 cwt., compared with 8 tons for 56-seaters currently in service in the area, and it is hoped that they will return 11-11+ m.p.g., compared with an average of 10 m.p.g. for the present
vehicles.
Six Reliance single-deckers, with seats for 41 people and standing room for 11/, have already been delivered.