Stand Up to Chiefs, Says Mr. James
12th April 1957
Page 37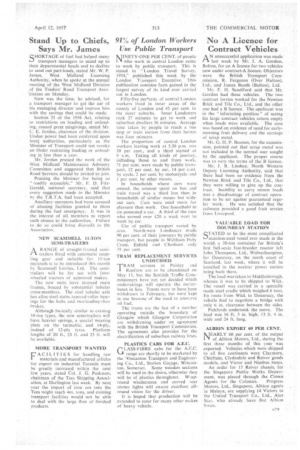 Page 37, 12th April 1957 —
Stand Up to Chiefs, Says Mr. James
Close
SHORTAGE of fuel had helped many b--.7 transport managers to stand up to their departmental heads and to decline to send out part-loads, stated Mr. W. P. James, West Midland Licensing Authority, when he spoke at the annual meeting of the West Midland Division of the Traders' Road Transport Assn'elation on Monday.
Now was the time, he advised, for a transport manager to get the ear of his managing director and impress him with the savings that could be made.
Section 33 of the 1956 Act, relating to restrictions on loading and unloading, caused great misgivings, stated Mr. C. E. Jordan, chairman of the division. Undue power had been conferred upon local, authorities, particularly as the Minister of Transport could not revoke an Order restricting loading or unloading in. less than a year.
Mr. Jordan praised the work of the West Midland Maintenance Advisory Committee and suggested that British Road Services should be invited to join.
Praising the Minister for being so " readily accessible," Mr. F. D. FitzGerald, national secretary, said that every suggestion made to the Minister by the T.R.T.A. had been accepted.
Ancillary operators had been accused of abusing facilities granted to them during the fuel emergency. It was in the interest of all members to report such abuses to the authorities. Failure to do so could bring discredit to the Association.
NEW SCAMMELL 11-TON SEMI-TRAILERS
A RANGE of straight-framed semitrailers fitted with automatic coupling gear and suitable for 11-ton payloads is to be introduced this month by Scammell Lorries, Ltd. The semitrailers will be for use with fourwheeled tractors of approved makes. The new units have stressed main frames, braced by substantial tubular cross-members. The steel tubular axle has alloy steel stubs, tapered-roller bearings for the hubs and two-leading-shoe
• brakes, Although basically similar to existing 10-ton types, the new semi-trailers will have heavier springs, a special wearing plate on the turntable, and 14-ply, instead of 12-ply tyres. Platform lengths of 20 ft., 23 ft. and 25 ft. will he available, MORE TRANSPORT WANTED
FACILITIES for handling raw materials and manufactured articles for export on industrial Teesside mast be greatly increased within the next few years, stated Col. J. G. Peckston, chairman of the Tees Shipping Association, at Darlington last week. By next year the import of iron ore into the Tees might reach 4m. tons, and existing traniport facilities would not be able to deal with the large flow of finished products,