REDUCING FRICTION IN A TIPPING GEAR.
11th September 1928
Page 26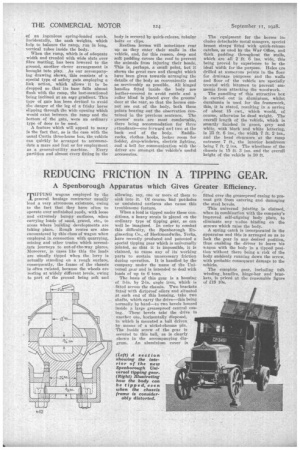 Page 26, 11th September 1928 —
REDUCING FRICTION IN A TIPPING GEAR.
Close
A Spenborough Apparatus which Gives Greater Efficiency.
TIPPING wagons employed by the general haulage contractor usually lead a very strenuous existence, owing to the fact that they have often to operate over unfinished roads, with loose and extremely bumpy surfaces, when carrying loads of sand, gravel, etc., to niece where :minding developments are taking place. Rough routes are also encountered by this class of wagon when employed in connection with quarrying, mining and other trades which necessitate journeys to out-of-the-way places. Moreover, in cases like this the loads are usually tipped when the lorry is actually standing on a rough surface, consequently, the frame of the chassis is often twisted, because the wheels are resting at widely different levels, owing to part of the ground being soft and
allowing, say, one or more of them to sink into it. Of course, bad pot-holes or undulated surfaces also cause this troublesome feature.
When a load is tipped under these conditions, a heavy strain is placed on the ordinary type of tipping gear, as can well be imagined. In order to combat this difficulty, the Spenborough Engineering Co., of Heeltmendwike, Yorks, have recently produced and patented a special tipping gear which is universally jointed, so that it is impossible, it is claimed, to cause any of its working parts to sustain unnecessary friction during operation. It is handled by the company under the name of the Universal gear and is intended to deal with loads of up to 6 tons.
The basis of this gear is a housing of 3-in. by 2:in, angle iron, which is fitted across the chassis. Two brackets fitted with dirtproof oilers and situated at each end of this housing, take two shafts, which carry the drive—this being normally by hand—to two bevels hmised inside a large greaseproof central easing. These bevels take the drive to another one, horizontally disposed, in which is mounted a ball driven by means of a nickel-chrome pin. The inside screw of the gear is secured to this ball, as is clearly shown in the accompanying diagram. An aluminium cover is fitted over the greaseproof casing to prevent grit from entering and damaging the steel bevels.
This universal jointing is claimed, when in combination with the company's improved self-aligning body plate, to eliminate any wadue binding on the screws which raise the body.
A spring catch is incorporated in the apparatus and this is arranged so as to lock the gear in any desired position, thus enabling the driver to leave is v.agon with the body in a tipped position without there being a risk of the body suddenly running down the screw, with probable consequent damage to the vehicle.
The complete gear, including ttylb winding handles, hinge-bar and brackets, is priced at the reasonable figure of £19 10s.