Papers at the World Motor Transport Congress.
11th September 1928
Page 22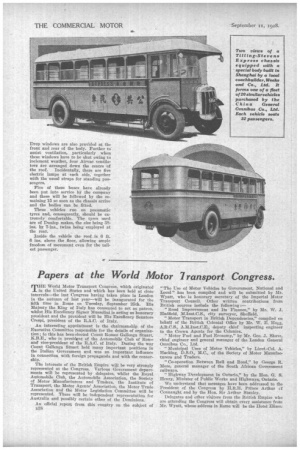 Page 22, 11th September 1928 —
Papers at the World Motor Transport Congress.
Close
THE World Motor Transport Congress, which originatedin the United States and which has been held at close intervals—the last Congress having taken place in London in the autumn of last year—will be inaugurated for the fifth time in Rome on Tuesday, September 25th. His Majesty the King of Italy has consented to act as patron, whilst His Excellency Signor Mussolini is acting as honorary president and the president will be His Excellency Senatore Crespi, president of the R.A.C. of Italy.
An interesting appointment is the chairmanship of the Executive Committee responsible for the details of organisation; to this has been elected Count Romeo Gallenga Stuart, K.B.E., who is pros-leant of the Automobile Club of Rome and vice-president of the R.A.C. of Italy. During the war Count Gallenga Stuart held many important positions in the Italian Government and was an important inlinenef: in connection with foreign propaganda and with the censorship.
The interests of the British Empire will be very strongly represented at the Congress. Various Grovernment departments will be represented by delegates, whilst the Royal Automobile Club, the Automobile Association, the Society of Motor Manufacturers and Traders, the Institute of Transport, the Motor Agents' Association, the Motor Trade Association and the Motor Legislation Committee will be represented. There will be independent representation fur Australia and possibly certain other of the Dominions.
An official report from this country on the subject of E38
"The Use of Motor Vehicles by Government, National and Local " has been compiled and will be submitted by Mr. Wyatt, who is honorary secretary of the Imperial Motor Transport Council. Other written contributions from British sources include the following:—
" Road Improvement and Its Finance," by Mr. W. J. Hadfield, M.Inst.C.S., city surveyor, Sheffield.
"Motor Transport in British Dependencies," compiled en behalf of the British Colonial Office by Mr. W. E. Hogg, A.R.C.S., A.M.Inst.C.E. deputy chief inspecting engineer to the Crown Agents ior the Colonies..
"Motor Fuel and Fuel Economy," by Mr. Geo. S. Shave, chief engineer and general manager of the London General Omnibus Co., Ltd.
"Municipal Uses of Motor Vehicles," by Lieut.-Col. A. Hacking, D.S.O., M.C., of the Society of Motor Manufac turers and Traders. • "Co-operation Between Rail and Road," by George R. More, general manager of the South African Government railways.
" Highway Development in Ontario," by the Hon. G. S. Henry, Minister of Public Works and Highways, Ontario.
We understand that messages have been addressed to the President of the Congress by H.R.H. Prince Arthur cf Connaught and by the Hon. Sir Arthur Stanley.
Delegates and other visitors from the British Empire who are attending the Congress will obtain every assistance from Mr. Wyatt, whose address in Rome will be the lintel Eliseo:
Tags
Organisations
:
Motor Legislation Committee
,
Congress
,
Italian Government
,
Institute of Transport
,
Automobile Association
,
South African Government
,
Imperial Motor Transport Council
,
Motor Trade Association
,
Executive Committee
,
Society of Motor Manufacturers and Traders
,
Royal Automobile Club
,
British Colonial Office
,
Motor Agents' Association
,
Automobile Club of Rome
,
Society of Motor Manufac
People
:
Signor Mussolini
,
W. J. Hadfield
,
G. S. Henry
,
Senatore Crespi
,
Geo
,
Arthur cf Connaught
,
W. E. Hogg
,
Wyatt
,
Romeo Gallenga Stuart
,
George R. More
,
A. Hacking