A BULLION VAN FOR BRITISH WEST AFRICA.
11th September 1928
Page 11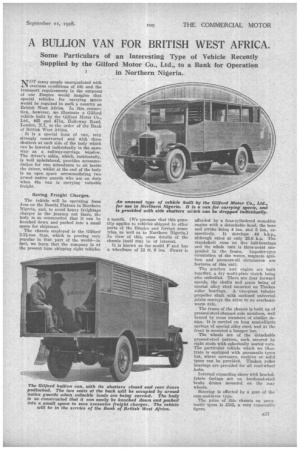 Page 11, 11th September 1928 —
A BULLION VAN FOR BRITISH WEST AFRICA.
Close
Some Particulars of an Interesting Type of Vehicle Recently Supplied by the Gilford Motor Co., Ltd., to a Bank for Operation in Northern Nigeria.
NOT many people unacquainted with overseas conditions of life and the transport requirements in the outposts of our Empire would imagine that special vehicles for carrying specie would be required in such .a country as British West Africa. In this connection, however, we illustrate a Gifford vehicle built by the Gifford Motor Co., Ltd, 465 and 471a, Holloway Road, London, N.7, to the order of the Bank of British West Africa.
It is a special form of van, very strongly constructed and with three shutters at each side of the body which can be lowered individually in the same way as a railway-carriage window. The driver's cabin, which, incidentally, is Well upholstered, provides accommodation for two attendants to sit beside the driver, whilst at the end of the body is an open space accommodating two armed native guards who are on duty when the van is carrying valuable freight.
• Saving Freight Charges.
The vehicle will he operating from Joss on the Bouchi Plateau in Northern Nigeria, and, to avoid heavy freightage charges in the journey out there, th.. body is so constructed that it can he knocked down and packed into a small space for shipment.
The chassis employed is the Gifford 2-2i-ton type, which is proving very popular in that part of the world—in fact, we learn that the company is at the present time shipping eight vehicles a month. (We presume that this quantity applies to vehicles shipped to other parts of the Empire and foreign countries, as well as to Northern Nigeria.) In view of this, some details of the chassis itself may be of interest It is known as the model b' and has a wheelbase of 12 ft. 9 ins. Power i.e.
afforded by a four-eylindered monobloc engine with a detachable head, the bore and stroke being 4 ins. and 5 ins., respectively. It develops 44 b.h.p., although rated at only 25.6 h.p. The crankshaft runs on five ball-bearings and the whole unit is three-point suspended in the frame. Impeller-type circulation of the water, magneto ignition and pressure-oil circulation are
features of this'unit • The gearbox and engine are built together, a dry multi-plate clutch being also embodied. There are four forward speeds, the shafts and gears being of special alloy steel mounted on Timken roller bearings. A two-piece tubular propeller shaft with enclosed universal joints conveys the drive to an overheadworm axle.
The frame of the chassis is built up of pressed-steel-channel side members, well braced by cross members of similar design. It is carried on long semi-elliptic springs of special alloy steel, and at the front is mounted a bumper bar.
The wheels are of the detachable pressed-steel pattern, each Kectured by eight studs with spherically seated nuts. The particular vehicle which we illustrate is equipped with pneumatic tyres but, where necessary, cushion or solid tyres can be provided. Timken roller bearings are provided for all road-wheel hubs.
Internal expanding shoes with bonded. fabric facings act on hardened-steel brake drums mounted on the rear wheels.
Steering is effected by a gear of the cam-and-lever type.
The price of this chassis on micamade tyres is 1515, a very 'reasonable figure.