I EU leaders plan to thrash iut a compromise deal
11th October 2001
Page 7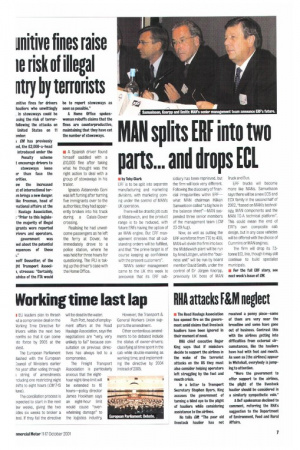 Page 7, 11th October 2001 —
I EU leaders plan to thrash iut a compromise deal
Close
Keywords :
on the Vorking Time Directive for 'rivers within the next two nonths so that it can come it° force by 2005 at the atest.
The European Parliament :lashed with the European ;ouncil of Ministers earlier his year after voting through string of amendments icluding one restricting night ihifts to eight hours (CM 7-13 lune).
The conciliation process is :xpected to start in the next ew weeks, giving the two ;ides six weeks to broker a lea'. If they fail the directive will be dead in the water.
Ruth Pott, head of employment affairs at the Road Haulage Association, says the negotiations are "very very unlikely to fail" because consultation on previous directives has always led to a compromise.
The Freight Transport Association is particularly anxious that the eighthour night-time limit will be extended to 10 hours—policy director James Hookhann says an eight-hour limit would cause "overwhelming damage" to the logistics industry. However, the Transport & General Workers Union supports the amendment.
Other contentious amendments to be debated include the status of owner-drivers: classifying all time spent in the cab while double-manning as working time; and implementing the directive by 2004 instead of 2005.