STRIKING NEW CIE ATLANTEANS
11th November 1966
Page 50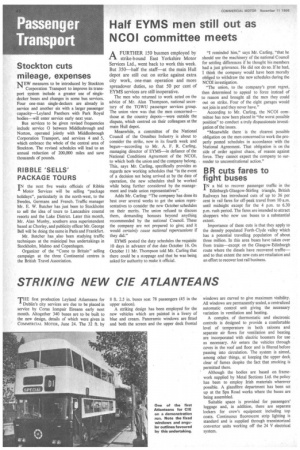 Page 50, 11th November 1966 —
STRIKING NEW CIE ATLANTEANS
Close
THE first production Leyland Atlanteans for
Dublin's city services are due to be placed in service by Coras lompair Eireann early next month. Altogether 340 buses are to be built to the new design, details of which were given in COMMERCIAL MOTOR, June 24. The 32 ft. by ft. 2.5 in. buses scat 78 passengers (45 in the upper saloon).
A striking design has been employed for the new vehicles which are painted in a livery of blue and cream. Panoramic windows are fitted and both the screen and the upper deck frontal
windows are curved to give maximum visibility. All windows are permanently sealed, a centralized automatic control unit giving the necessary variation in ventilation and heating.
A complex of thermostatic and electronic controls is designed to provide a comfortable level of temperature in both saloons and separate air flows for ventilation and heating are incorporated with electric boosters for use as necessary. Air enters the vehicles through coves in the roof and floor and is filtered before passing into circulation. The system is aimed, among other things, at keeping the upper deck clear of fumes despite the fact that smoking is permitted there.
Although the bodies are based on framework supplied by Metal Sections Ltd. the policy has been to employ Irish materials wherever possible. A glassfibre department has been set up at the Spa Road works where the buses are being assembled.
Suitable space is provided for passengers' luggage and, in addition, there are separate lockers for crew's equipment including top coats. Continuous fluorescent strip lighting is standard and is supplied through transistorized convertor units working off the 24 V electrical system.