meet
11th May 1973
Page 88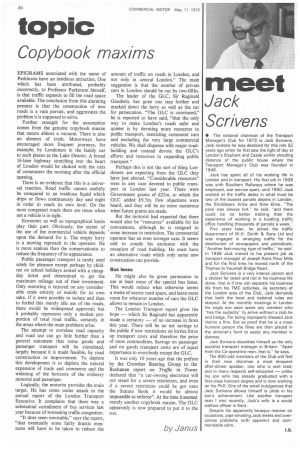 Page 88, 11th May 1973 —
meet
Close
Jack Scrivens
• The national chairman of the Transport Manager's Club for 1973 is Jack Scrivens. Jack reckons he was destined for this role 52 years ago when he first saw the light of day at London's Elephant and Castle within shouting distance of the public house where the Transport Manager's Club was founded in 1946.
Jack has spent all of his working life in London and in transport. His first job in 1936 was with Southern Railways where he was employed, war service apart, until 1950. Jack worked at the traffic desks in what must be two of the busiest parcels depots in London, the Bricklayers Arms and Nine Elms. "The pace was always hot," he said, "and there could be no better training than the experience of working in a bustling traffic office handling thousands of parcels a week."
Five years later, he joined the traffic department of W.H. Smith & Sons Ltd and was engaged in arranging traffic for the distribution of newspapers and periodicals. "Another fast-moving type of traffic," he said. In 1958 Jack moved to his present job as transport manager of Joseph Rank Flour Mills and for the first time he moved north of the Thames to Vauxhall Bridge Road.
Jack Scrivens is a very intense person and a stickler for detail and not in his business life alone, that is if one can separate his business life from his TMC activities. As secretary of the London area of the Club, Jack demands that both the local and national rules are obeyed. At the monthly meetings in London his eagle eye soon spots any member who "has the audacity" to arrive without a club tie and badge. For being improperly dressed Jack claims a fine. But as proof that he is a most humane person the fines are then placed in the almoner's fund to assist any member in distress.
Jack Scrivens describes himself as the only socialist transport manager in Britain. "Apart from the Co-operative men, that is," he says.
The 900-odd members of the Club will find in their new chairman a most eloquent after-dinner speaker, one who is well read; and in many respects self-educated — unlike his son who has already graduated with a first-class honours degree and is now working on his PhD. One of the small indulgences that Jack Scrivens allows himself is pride in his son's achievement. Like another transport man I met recently, Jack's wife is a social welfare officer in Kent.
Despite his apparently brusque manner on occasions, pipe-smoking Jack meets and overcomes problems with apparent and commendable calm.