How 50/50 transporter combination would favour export
11th May 1973
Page 86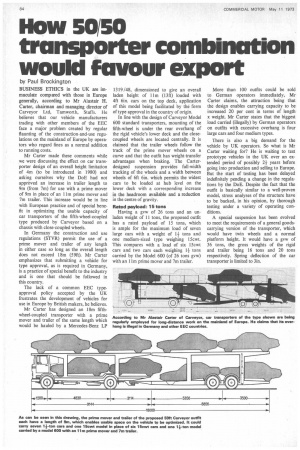 Page 86, 11th May 1973 —
How 50/50 transporter combination would favour export
Close
by Paul Brockington BUSINESS ETHICS in the UK are immaculate compared with those in Europe generally, according to Mr Alastair H. Carter, chairman and managing director of Carveyor Ltd, Tamworth, Staffs_ He believes that our vehicle manufacturers trading with other members of the EEC face a major problem created by regular flaunting of the construction-and-use regulations on the mainland of Europe by operators who regard fines as a normal addition to running costs.
Mr Carter made these comments while we were discussing the effect on car transporter design of an overall height limitation of 4m (to be introduced in 1980) and asking ourselves why the DoE had not approved an increase in trailer length to 9m (from 7m) for use with a prime mover of 9m in place of an 1 lm prime mover and 7m trailer. This increase would be in line with European practice and of special benefit in optimizing the usable capacity of car transporters of the fifth-wheel-coupled type produced by Carveyor based on a chassis with close-coupled wheels.
In Germany the construction and use regulations (STVR) permit the use of a prime mover and trailer of any length in either case so long as the overall length does not exceed 18m (59(t). Mr Carter emphasizes that submitting a vehicle for type approval, as is required in Germany, is a practice of special benefit to the industry and is one that should be followed in this country, The lack of a common EEC typeapproval policy accepted by the UK frustrates the development of vehicles for use in Europe by British makers, he believes.
Mr Carter has designed an 18m fifthwheel-coupled transporter with a prime mover and trailer of the same length which would be hauled by a Mercedes-Benz LP 1319/48, dimensioned to give an overall laden height of 1 lm (13ft) loaded with 4ft fin, cars on the top deck, application of this model being facilitated by the form of type approval in the country of origin.
In line with the design of Carveyor Model 600 standard transporters, mounting of the fifth-wheel is under the rear overhang of the rigid vehicle's lower deck and the closecoupled wheels are located centrally. It is claimed that the trailer wheels follow the track of the prime mover wheels on a curve and that the outfit has weight-transfer advantages when braking. The Carterdesigned suspension provides full-width tracking of the wheels and a width between wheels of 6ft 6in, which permits the widest cars to be loaded at hub level on the lower deck with a corresponding increase in the headroom available and a reduction in the centre of gravity.
Rated payload: 15 tons Having a gvw of 26 tons and an unladen weight of 11 tons, the proposed outfit has a rated payload of 15 tons, which is ample for the maximum load of seven large cars with a weight of 11 tons and one medium-sized type weighing 15cwt. This compares with a load of six 15cwt cars and two cars each weighing 11 tons carried by the Model 600 (of 26 tons gvw) with an 1 lm prime mover and 7m trailer. More than 100 outfits could be sold to German operators immediately, Mr Carter claims, the attraction being that the design enables carrying capacity to be increased 20 per cent in terms of length x weight. Mr Carter states that the biggest load carried (illegally) by German operators on outfits with excessive overhang is four large cars and four medium types.
There is also a big demand for the vehicle by UK operators. So what is Mr Carter waiting for? He is waiting to test prototype vehicles in the UK over an extended period of possibly 2+ years before going into production and selling to Europe. But the start of testing has been delayed indefinitely pending a change in the regulations by the DoE. Despite the fact that the outfit is basically similar to a well-proven model, stress analyses of the structure have to be backed, in his opinion, by thorough testing under a variety of operating conditions.
A special suspension has been evolved to meet the requirements of a general goodscarrying version of the transporter, which would have twin wheels and a normal platform height. It would have a gvw of 36 tons, the gross weights of the rigid and trailer being 16 tons and 20 tons respectively. Spring deflection of the car transporter is limited to 3in.