Costing for a lifetime
11th May 1973
Page 47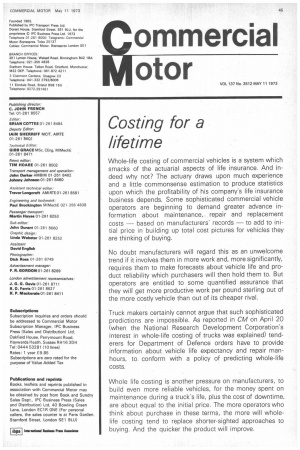 Page 47, 11th May 1973 —
Costing for a lifetime
Close
Whole-life costing of commercial vehicles is a system which smacks of the actuarial aspects of life insurance. And indeed why not? The actuary draws upon much experience and a little commonsense estimation to produce statistics upon which the profitability of his company's life insurance business depends. Some sophisticated commercial vehicle operators are beginning to demand greater advance information about maintenance, repair and replacement costs — based on manufacturers' records — to add to initial price in building up total cost pictures for vehicles they are thinking of buying.
No doubt manufacturers will regard this as an unwelcome trend if it involves them in more work and, more significantly, requires them to make forecasts about vehicle life and product reliability which purchasers will then hold them to. But operators are entitled to some quantified assurance that they will get more productive work per pound sterling out of the more costly vehicle than out of its cheaper rival.
Truck makers certainly cannot argue that such sophisticated predictions are impossible. As reported in CM on April 20 (when the National Research Development Corporation's interest in whole-life costing of trucks was explained) tenderers for Department of Defence orders have to provide information about vehicle life expectancy and repair manhours, to. conform with a policy of predicting whole-life costs.
Whole life costing is another pressure on manufacturers, to build even more reliable vehicles, for the money spent on maintenance during a truck's life, plus the cost of downtime, are about equal to the initial price. The more operators who think about purchase in these terms, the more will wholelife costing tend to replace shorter-sighted approaches to buying. And the quicker the product will improve.