keeping them running
11th May 1973
Page 156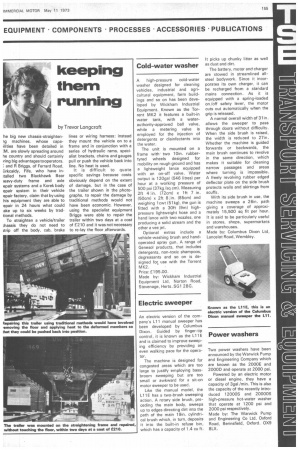 Page 156, 11th May 1973 —
keeping them running
Close
by Trevor Lon gc roft
be big new chassis-straightenig machines. whose capa,ilities have been detailed in M. are slowly spreading around he country and should certainly ;ring big advantages tooperators. : and R Briggs, of Ferrard Road. Cirkcaldy. Fife, who have intailed two Blackhawk Bear leavy-duty frame and axle epair systems and a Korek body .epair system in their vehicle .epair factory, claim that by using his equipment they are able to
• epair in 24 hours what could :ake up to six weeks by tradtional methods.
To straighten a vehicle/trailer 1:hassis they do not need to >trip off the body, cab, brake lines or wiring harness: instead they mount the vehicle on to a frame and in conjunction with a series of hydraulic rams, specialist brackets, chains and gauges pull or push the vehicle back into line. No heat is used.
It is difficult to quote specific savings because costs obviously depend on the extent of damage, but in the case of the trailer shown in the photographs, to repair the damage by traditional methods would not have been economic. However, using the specialist equipment Briggs were able to repair the trailer within two days at a cost of £210 and it was not necessary to re-lay the floor afterwards.