Electric sweeper
11th May 1973
Page 156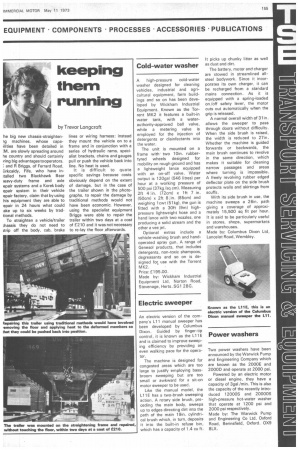 Page 156, 11th May 1973 —
Electric sweeper
Close
An electric version of the company's L11 manual sweeper has been developed by Columbus Dixon. Guided by finger-tip control, it is known as the L11E and is claimed to improve sweeping efficiency by providing an even walking pace for the operator.
The machine is designed for congested areas which are too large to justify employing bassbroom sweeping but are too small or awkward for a sit-on motor sweeper to be used.
Like the manual model, the L11E has a two-brush sweeping action. A rotary side brush, preceding the main body, sweeps up to edges directing dirt into the path of the main 19in. cylindrical brush which, in turn, deposits it into the built-in refuse bin, which has a capacity of 1.4 cu ft. It picks up chunky litter as well as dust and dirt.
The battery, motor and charger are stowed in streamlined allsteel bodywork. Since it incorporates its own charger. it can be recharged from a standard mains connection. As it is equipped with a spring-loaded on /off safety lever, the motor cuts out automatically when the grip is released.
A normal overall width of 31 in. allows the sweeper to pass through doors without difficulty. When the side brush is raised, the width is reduced to 27in. Whether the machine is guided forwards or backwards, the main brush continues to revolve in the same direction, which makes it suitable for cleaning narrow passages and areas where turning is impossible. A freely revolving rubber edged deflector plate on the side brush protects walls and skirtings from scuffs.
With its side brush in use, the machine sweeps a 26in. path giving a coverage of approximately 15,500 sq fit per hour. It is said to be particularly useful in stores, shops, supermarkets and warehouses.
Made by: Columbus Dixon Ltd, Lancelot Road, Wembley.