Cold-water washer
11th May 1973
Page 156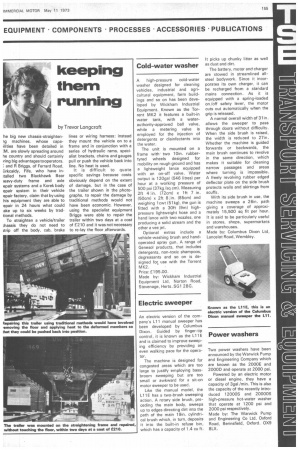 Page 156, 11th May 1973 —
Cold-water washer
Close
A high-pressure cold-water washer designed for cleaning vehicles, industrial and agricultural equipment, farm buildings and so on has been developed by Wickham Industrial Equipment. Known as the Torrent MK2 it features a built-in water tank, with a waterauthority-approved ball valve, while a metering valve is employed for the injection of detergents or disinfectants into the water.
The unit is mounted on a frame with two 10in, rubbertyred wheels designed for mobility on rough ground and has a lightweight lance equipped with an on-off valve. Water output is 120gal 1546 litres) per hour at a working pressure of 500 psi I37kg /sq cm). Measuring 2f1 4 .in. (72cm) x lft 7 in. (50cm) x 2ft 8 ;in. (85cm) and weighing 1cwt (51kg), the gun is fitted with a 30ft (9m) highpressure lightweight hose and a hand lance with two nozzles, one producing a solid stream and the other a vee jet.
Optional extras include a vehicle-washing brush and handoperated spray gun. A range of Genesol products, that includes detergents, non-toxic shampoos, degreasants and so on is designed foç use with the Torrent M K2 .
Price: £195.00.
Made by: Wickham Industrial Equipment Ltd, Norton Road, Stevenage, Herts. SG1 2 BG.