Anti-seize lubricant
11th May 1973
Page 155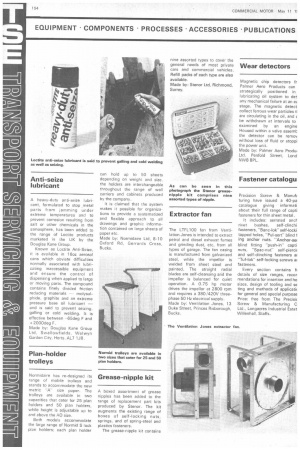 Page 155, 11th May 1973 —
Anti-seize lubricant
Close
A heavy-duty anti-seize lubricant, formulated to stop .metal parts from jamming under extreme temperatures and to prevent corrosion resulting from salt or other chemicals in the atmosphere, has been added to the range of Loctite products marketed in the UK by the Douglas Kane Group.
Known as Loctite Anti-Seize, It is available in 16oz aerosol cans which obviate difficulties normally associated with lubricating inaccessible equipment and ensure the control of dispensing when applied to large or moving parts. The compound contains finely divided friction
reducing materials molysulphide, graphite and an extreme pressure base oil lubricant — and is said to prevent seizing, galling or cold welding. It is effective between --65deg F and +2000deg F.
Made by: Douglas Kane Group Ltd, Swallowfields, Welwyn Garden City, Herts. AL? 1JB. can hold up to 50 sheets depending on weight and size. the holders are interchangeable throughout the range of wall carriers and cabinets produced by the company.
It is claimed that the system makes it possible for organizations to provide a systematized and flexible approach to all drawings and graphic information contained on large sheets of paper etc.
Made by: Normidaire Ltd, 8-10 Oxford Rd, Gerrards Cross, Bucks.