Licensing Authorities Upheld in Five P.S.V. Appeals
11th May 1951
Page 37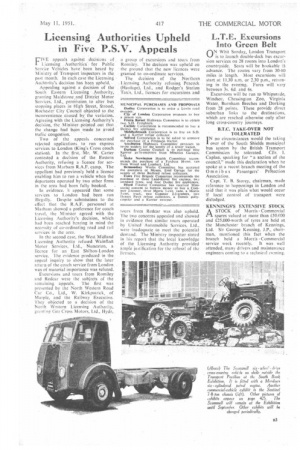 Page 37, 11th May 1951 —
Licensing Authorities Upheld in Five P.S.V. Appeals
Close
F'vE appeals against :decisions of Licensing . Authorities-for Public Service Vehicles have been heard by Ministry of Transport inspectors in the past Month. In each case the Licensing Authority% decision has been upheld.:.• Appealing against a decision of the South Eastern Licensing s. Authority, granting Maidstorte_and District Motor Services, Ltd., permission, to alter bus stopping places in High Street, Strood,. Rochester City Council objected to the inconvenience caused by; the variation. Agreeing with the Licensing Authority' decision, the Miniier. pbinted out that
the change had been made to avoid traffic congestion.
Two of the appeals concerned rejected applications to run express services to •London (King's Cross coach station). In the . first, Mr. W. Carter contested a decision of the .Eastern Authority, refusing a licence for services from Marham R.A.F. camp. The appellant had previously held a licence enabling him to run a vehicle when the departures operated by two other firms in the area had been fully booked.
In evidence, it appeared that some services to 1.ondon had been run illegally. Despite submissions to the effect that the R.A.F. personnel at Marhain showed a preference for coach travel, the Minister agreed with the Licensing Authority's decision, which had been reached bearing in mind the necessity of co-ordinating road and rail services in the area.
In the second case, the West Midland Licensing Authority refused .Wainfleet Motor Services,— Ltd.,. Nuneaton, a licence fOr an East Shitton-Loridon service. The evidence produced in the appeal inquiry to show that the later return of the coach service from London, was of material importance was refuted.
Excursions and tours' from Romiley and Redear were the subjects of the remaining appeals. The first was presented by the North Western Road Car Co., Ltd., W. Kirkpatrick, of Marple, and the Railway Executive. They objected to a decision of the North Western Licensing Authority, grtining Ciee. Cross Motors, Ltd., Hyde,
a group of excursions and tours from Romiley. The decision was upheld on The ground that the new licences were granted to co-ordinaie services.
The decision of the . Northern . Licensing Authority refusing Peacock , (Haulage), Ltd., and Rodge-r's Station Taxis, Ltd., licences for excursions and lours from Redcar was also upheld. The two concerns appealed and showed in evidence that similar tours operated by Lhiiied -Automobile Services, Ltd., were -inadequate to meet the potential demand. The Ministry inspector stated in his report that the local knowledge of the Licensing Authority provided ample justification for the refusal of he