Fire-Brigade Matters.
11th May 1911
Page 9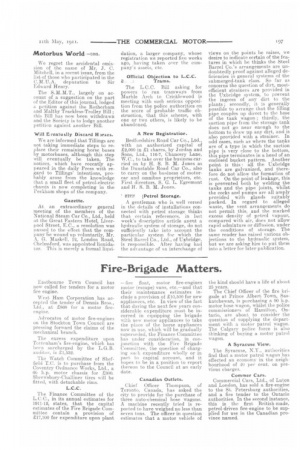 Page 9, 11th May 1911 —
Fire-Brigade Matters.
Close
Eastbourne Town Council has now called for tenders for a motor fire engine.
West Ham Corporation has accepted the tender of Dennis Bros., Ltd., at £868 for a motor fireengine.
Advocates of motor fire-engines on the Stockton Town Council are pressing forward the claims of the mechanical branch.
The excess expenditure upon Tottenham's fire-engine, which has been surcharged by the L. G. B. auditor-, is £1,532.
The Watch Committee of Sheffield T.C. is to purchase from the Coventry Ordnance Works, Ltd., a 13G h.p. motor chassis for 2300. Shre.wsbury-Challiner tires will be fitted, with detachable rims.
The Finance Committee of the L C.C., in its annual estimates for 1911-12, states, that the capital estimates of the.Fire Brigade Committee contain a provision of £17,300 for expenditure upon plant
—.fire float, motor fire-engines motor (escape) vans, etc.—and that their maintenance estimates include a provision of E10,500 for new appliances, etc. In view of the fact that during the next few years considerable expenditure must be incurred in equipping the brigade with new motor appliances to take the place of the horse appliances now in use, which will be gradually superseded, the Finance Committee has under consideration, in conjunction with the Fire Brigade Committee, the question of charging sin-h expenditure wholly or in part to capital account, and it hopes to be in a position to report thereon to the Council at an early date,
Canadian Outlets.
Chief Officer Thompson, of Toronto, Canada, has asked the city to provide for the purchase of three auto-chemical hose wagons. A machine recently tried is reported to have weighed no less than seven tons. The officer in question estimates that a motor vehicle of the kind should have a life of about 25 years. The Chief Officer of the fire brigade at Prince Albert Town, Saskatchewan, is purchasing a DO h,p. motor hose wagon, whilst the police commissioners of Hamilton, Ontario, are about to consider the question of supplying the department with a motor patrol wagon. The Calgary police force is also thinking of buying a motor patrol wagon.
A Syracuse View,
The Syracuse, N.Y., authorities find that a motor patrol u agon has effected an economy in the neighbourhood of 40 per cent. on previous charges.
Commer Cars.
Commercial Cars, Ltd., of Luton and London, has sold a fire-engine to the St. Petersburg authorities, and a fire tender to the Ontario authorities. In the second instance, this is the first British-made, petrol-driven fire-engine to be supplied for use in the Canadian province named.