Road Carrying round Manchester.
11th May 1905
Page 21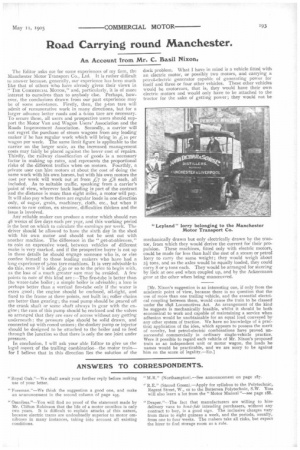 Page 21, 11th May 1905 —
Road Carrying round Manchester.
Close
An Account from Mr. C. Basil Nixon.
The Editor asks me for some experiences of my firm, the Manchester Motor Transport Co., Ltd. It is rather difficult to answer because, generally, our experience has been much like that of others who have already given their views in
" COMMERCIAL MoToR," and, particularly, it is of more interest to ourselves than to anybody else. Perhaps, however, the conclusions drawn from our past experience may be of some assistance. Firstly, then, the 5-ton tare will admit of remunerative work in many directions, but for a larger advance better roads arid a 6-ton tare are necessary. To secure these, all users and prospective users should support the Motor Van and Wagon Users' Association and the Roads Improvement Association. Secondly, a carrier will not regret the purchase of steam wagons from any leading maker if he has regular work which will bring in Lio per wagon per week. The same limit figure is applicable to the carrier on the larger scale, as the increased management costs may fairly be placed against the lower cost of repairs. Thirdly, the railway classification of goods is a necessary factor in making up rates, and represents the proportional risks of the different traffics when on motors. Fourthly, a private user can hire motors at about the cost of doing the same work with his own horses, but with his own motors the cost per week will work out at from to each, all included. As to suitable traffic, speaking from a carrier's -point of view, wherever back loading is part of the contract -rind the distance is more than eight miles, a motor will pay. It will also pay where there are regular loads in one direction only, of sugar, grain, machinery, cloth, etc., but when it comes to raw cotton, ex steamer, difficulties thicken and the issue is involved.
Any reliable maker can produce a motor which should run 48 weeks of live days each per year, and this working period is the best on which to calculate the earnings per week. The driver should be allowed to have the sixth day in the shed with his own motor and should not be sent out with another machine. The difference in the " get-at-ableness," to coin an expressive word, between vehicles of different make is very marked, and if the prospective buyer is not up in these details he should engage someone who is, or else confine himself to those leading makers who have had a long experience of 3-ton tare machines. It is very advisable to do this, even if it adds 1.-5o or so to the price to begin with, as the loss of a much greater sum may be avoided. A few points to note of this kind are :—The fire-tube is better than the water-tube boiler ; a simple hailer is advisable ; a loco is perhaps better than a vertical fire-tube only if the water is extra good; the engine should be enclosed, oil-tight, and fixed to the frame at three points, not built in ; roller chains are better than gearing; the road pump should be geared oil the crank shaft or some shaft always in gear with the engine; the ram of this pump should he enclosed and the valves so arranged that they are easy of access without any getting underneath ; the pressure pipe should be solid drawn, and connected up with coned unions ; the donkey pump or injector should be designed to be attached to the boiler and to feed through the junction so that there is only the one joint under pressure.
In conclusion, I will ask your able Editor to give us the legal aspect of the trailing combinationthe motor train— for I believe that in this direction lies the solution of the
dock problem. What I have in mind is a vehicle fitted with an electric motor, or possibly two motors, and carrying a petrol-electric generator capable of generating power for itself and three or four other vehicles. These other vehicles would be motorcars, that is, they would have their own electric motors and would only have to he attached to the tractor for the sake of getting power; they would not be mechanically drawn but only electrically drawn by the tractor, from which they would derive the current for their propulsion. These machines, fitted only with electric motors, could be made for less than half the cost of a steam or petrol lorry to carry the same weight ; they would weigh about 21 tons, and as the axles would be equally loaded, they could carry 8 or 9 tons each. They would be arranged for steering by lock at one end when coupled up, and by the Ackermann gear at the other when being manceuvred.
[Mr. Nixon's suggestion is an interesting one, if only from the academic point of view, because there is no question that the use of more than one trailing vehicle, and the essential electrical coupling between them, would cause the train to be classed under the 1898 Locomotives Act. An arrangement of the kind he suggests is mechanically feasible, whilst it should be both economical to work and capable of maintaining a service when adhesion would be unobtainable for an equal load conveyed by any other system of traction. We have no knowled,ge of a practical application of the idea, which appears to possess the merit of novelty, but petrol-electric combinations have proved unsuccessful commercially in ordinary single-vehicle practice. Were it possible to regard each vehicle of Mr. Nixon's proposed train as an independent unit or motor wagon, the loads henames would be practicable, and we are sorry to be against him on the score of legality.—ED.1