ANSWERS TO CORRESPONDENTS.
11th May 1905
Page 21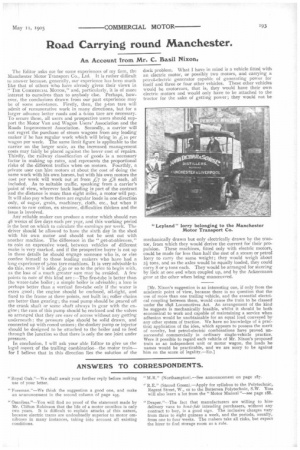 Page 21, 11th May 1905 —
ANSWERS TO CORRESPONDENTS.
Close
"Royal Oak."—We shall await your further reply before making use of your letter.
"Foreman."—We think the suggestion a good one, and make an announcement in the second column of page 195.
"Omnibus."—You will find no proof of the statement made by Mr. Clifton Robinson that the life of a motor omnibus is only two years. It is difficult to explain attacks of this nature, because electric trams are undoubtedly superior to motor omnibuses in many instances, taking into account all existing conditions.
MR." (Northampton).—See announcement on page 187.
R.E." (Stroud Green).—Apply for syllabus to the Polytechnic, Regent Street, W., or to the Battersea Polytechnic, S.W. Yon will also learn a lot from the "Motor Manual "—see page 188.
Draper."The fact that manufacturers are willing to hire delivery vans to bond-fide intending purchasers, without any contract to buy, is a good sign. The inclusive charges varyfrom three to eight guineas a week, and the periods, usually, from one to four weeks. The makers take all risks, but expect the hirer to find storage room as a rule.