Canadian Government Advertising Wagon.
11th May 1905
Page 17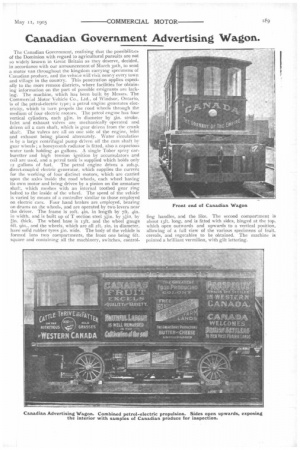 Page 17, 11th May 1905 —
Canadian Government Advertising Wagon.
Close
The Canadian Government, realising that the posslit,es of the Dominion with regard to agricultural pursuits are not so widely known in Great Britain as they deserve, decided,
in accordance with our announcement of March 3oth, to send a motor van throughout the kingdom carrying specimens of Canadian produce, and the vehicge will visit neany every town and village in the country. This penetration applies especially to the more remote districts, where facilities for obtaining information on the part of possible emigrants are lacking. The machine, which has been built by Messrs. The COmmere;a1 Motor Vehicle Co., Ltd., of Windsor, Ontario, is of the petrol-electric type; a petrol engine generates electricity, which in turn propels the road wheels through the medium of four electric motors. The petrol engine has four vertical cylinders, each 54in. in diameter by 51n. stroke. Inlet and exhaust valves are mechanically operated and driven off a cam shaft, which is gear driven from the crank shaft. The valves are all on one side of the engine, inlet and exhaust being. placed alternately. Water circulation is by a large centrifugal pump driven off the cam shaft by gear wheels; a honeycomb radiator is fitted, also a capacious water tank holding 40 gallons. A single Tober spray carburetter and high tension ignition by accumulators and coil arc used, and a petrol tank is supplied which holds only 12 gallons of fuel. The petrol engine drives a 20h.p. direct-couplud electric generator, which supplies the current for the working of four distinct motors, which are carried upon the axles inside the road wheels, each wheel having its own motor and being driven by a pinion on the armature shalt, which meshes with an internal toothed gear ring bolted to the inside of the wheel. The speed of the vehicle is varied by means of a controller similar to those employed on electric cars. Four hand brakes are employed, bearing on drums on the wheels, and are operated by two levers near the driver. The frame is 2oft. kin. in length by 7ft. kin. in width, and is built up of T section steel 31in. by gin. by :in. thick. The wheel base is i3ft. and the wheel gauge 6ft. gin., and the wheels, which are all aft. 2in, in diameter, have solid rubber tyres 5in. wide. The body of the vehicle is formed into two compartments, the front one being 61 t. square and containing all the machinery, switches, control ling handles, and the like. The second compartment is about 13ft. long, and is fitted with sides, hinged at the top, which open outwards and upwards to a vertical position, allowing of a full view of the various specimens of fruit, cereals, and vegetables to be obtained. The machine is painted a brilliant vermilion, with gilt lettering.