COMMERCIAL MOTOR
11th March 1915
Page 1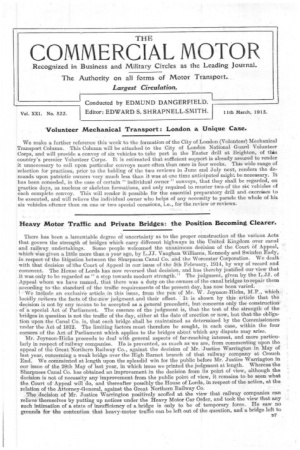 Page 1, 11th March 1915 —
COMMERCIAL MOTOR
Close
Recognized in Business and Military Circles as the Leading Journal.
The Authority on all forms of Motor Transport. Largest Circulation.
We make a further reference this week to the formation of the City of London (Volunteer) Mechanical Transport Column. This Column will be attached to the City of London National Guard Volunteer Corps, and will provide a convoy of six vehicles to take part in the Easter drill at Brighton, of this country's premier Volunteer CorpsIt is estimated that sufficient support is already assured to render it unnecessary to call upon particular convoys more often than once in four weeks. This wide range of selection for practices, prior to the holding of the two reviews in June and July next, renders the demands upon patriotic owners very much less than it was at one time anticipated might be necessary. It has been conceded, in the case of certain " individual owner " convoys, that they shall be regarded, on practice days, as nucleus or skeleton formations, and only required to muster two of the six vehicles of each complete convoy. This will render it possible f6r the essential preparatory drill andexercises to be executed, and will relieve the individual owner who helps of any necessity to parade the whole of his six vehicles oftener than on one or two special occasions, i.e., for the review or reviews.