THE SCOTTISL I I3us Gr , is preparing to have a
11th January 1986
Page 14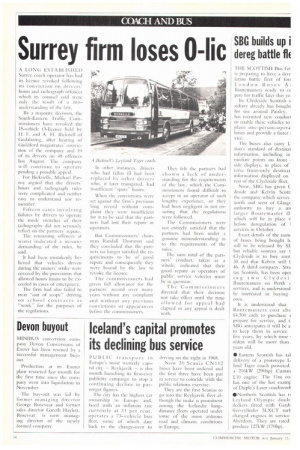 Page 14, 11th January 1986 —
THE SCOTTISL I I3us Gr , is preparing to have a
Close
dere lation battle fleet of Ion London Buses Al Routemasters ready to cm Pete for traffic later this ye.
Its Clydeside Scottish s sidiary already has bought for use around Paisley, has recruited new conduct to enable these vehicles to place one-person-opera buses and provide a faster vice.
The buses also carry L don's standard of destinat information, including in mediate points on front side displays, in place of terse front-only destinat information displayed on rest of the Clydeside fleet.
Now. SBG has given C deside and Kelvin Scotri the company which serves north and west of Glasgc authority to buy a nu larger Routemaster 11. which will be in place v before deregulation of I services in October.
Exact details of the num of buses being bought h: still to he released by SL but reliable sources say t Clydeside is to buy mot. 38 and that Kelvin will 46. A third company, Stra tay Scottish, has been °per ing two Clydesi Routemasters on Perth c services, and is understood be interested in buying own.
It is understood that Routemasters cost abc S4,500 each to purchase a prepare for service, and t: SBG anticipates it will be a to keep them in service five years, by which time oldest will be more than years old.
• Eastern Scottish has tal delivery of a prototype land Tiger coach powered a 216kW (290hp) Comm Lit) engine. The Ilin co has one of the last exam of Duple's Laser coachwork
• Northern Scottish has o Leyland Olympic do tub. deckers fitted with Garth five-cylinder 5LXCT turt charged engines in service Aberdeen. They are rated produce 127kW (170hp).