Advance Particulars of the Glasgow Show.
11th January 1912
Page 4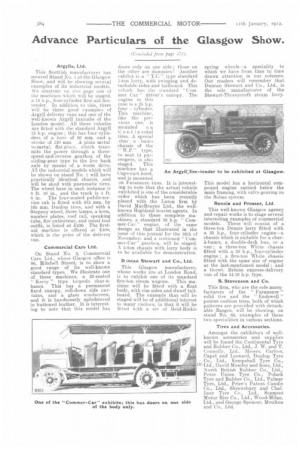 Page 4, 11th January 1912 —
Advance Particulars of the Glasgow Show.
Close
(Ccmeiudei( from page 373).
Argylls, Ltd.
This Scottish manufacturer has .secured Stand No. 1 at the Glasgow Show, and will be showing several examples of its industrial models.
te illustrate on this page one of the machines which will be staged,
a 15 four-cylinder first-aid firetender. In addition to this, there will be three good examples of Argyll delivery vans and one of the well-known Argyll taxicabs of the London model. All these vehicles are fitted with the standard Argyll 15 h.p. engine ; this has four cylin.ders of a bore of 80 mm. and a stroke of 120 mm. A plain metal to-metal, flat-plate, clutch transmits the power through a threespeed-and-reverse gearbox of the sliding-gear type to the live back axle by means of a worm drive. All the industrial models which will be shown on stand No. 1 will have practically identical chassis, and will be shod with pneumatic tires. The wheel base in each instance is 8 ft. 10 in., and the track is 4 ft. 8 in. The four-seated public-service cab is fitted with 815 mm. by 105 ram. Dunlop tires, and with a Stepney wheel, three lamps, a horn, number plates, roof rail, speaking -tube, fire extincteur, and usual tool • outfit., is listed at £430. The firstaid machine is offered at £400, which is the price of the delivery van.
Commercial Cars Ltd.
On Stand No. 2, Commercial Cars, Ltd.. whose Glasgow office is 80, Mitchell Street, is to show a .good range of its -well-known standard types. We illustrate one of these machines, a 23-seated " Kerry " type torpedo char-abanes. This has a permanent fixed canopy, roll-down side curtains, and a glass windscreen, and it is handsomely upholstered in buttoned leather. It is interesting to note that this model has doors only on one side ; those on the other are dummies ! Another exhibit is a " Y.C." type standard 3-ton lorry, with swinging and detachable sides and tailboard. This vehicle has the standard " Commer Car" driver's canopy. The engine in tins case is a ,25 four cylinder. This machine, like the previous one, is mounted o n Continental tires. A special char banes chassis of the " W.P." type, to seat 14 passengers, is also staged. This machine has a Cape-cart hood, and is mounted on Faransure tires. It is interesting to note that the actual vehicle exhibited is one of the considerable order which has been recently placed with the Luton firm by David MacBrayne Ltd., the wellknown Highland tourist agents. In addition to these complete machines, a standard 32 h.p. " Cornmer-Car " engine, of the same design as that illustrated in the issue of this journal for the 16th of November, and a sectioned " Commer-Car " gearbox, will be staged. A 5-ton chassis with lorry body is to be available for demonstration.
D incan Stewart and Co., Ltd.
This Glasgow manufacturer, whose works are at London Road, is to exhibit one of its standard five-ton steam wagons. This machine will be fitted with a float body, with rim sides and dwarf tailboard. The example that will be staged will be of additional interest to many visitors, in that it will be fitted with a set of Reid-Riekie spring wheels—a speciality to which we have from time to time drawn attention in our columns. Our readers will remember that Duncan Stewart and Co., Ltd., is the sole manufacturer of the Stewart-Thornycroft steam lorry.
This model has a horizontal compound engine carried below the main framing, with valve gearing on the Solins system.
Rennie and Prosser, Ltd.
This well-known Glasgow agency and repair works is to stage several interesting examples of commercial models. These will consist of a three-ton Dennis lorry fitted with a, 35 h.p., four-cylinder engine—a chassis which is suitable for a charii,-bancs, a double-deck bus, or a van ; a three-ton White chassis fitted with a 30 h.p., four-cylinder engine ; a five-ton White chassis fitted with the same size of engine as the last-mentioned model ; and a 15-cwt. Belsize express-delivery van of the 14-16 h.p. type.
S. Stevenson and Co.
This firm, who are the sole mann • facturers of the " Faransure " solid tire and the " Endswell " patent cushion tires, both of winch patterns are provided with detachable flanges, will be showing, on stand No. 86, examples of these two specialities in various sections.
Tires and Accessories.
Amongst the exhibitors of wellknown accessories and supplies will be found the Continental Tyre. and Rubber Co., Ltd., J. W. and T. Connolly, Ltd., Messrs. Carless, Capel and Leonard, Dunlop Tyre Co., Ltd., Kempshall Tyre Co., Ltd., David Moseley and Sons, Ltd., North British Rubber Co., Ltd., Peter Union Tyre Co., Polack Tyre and Rubber Co., Ltd., Palmer Tyre, Ltd., Price's Patent Candle Co., Ltd., Shrewsbury and Challiner Tyre Co., Ltd.. Segment Motor Rim Co., Ltd., Wood-Milne, Ltd., and George Spencer, Moulton and Co., Ltd.