News and Comment.
11th January 1912
Page 10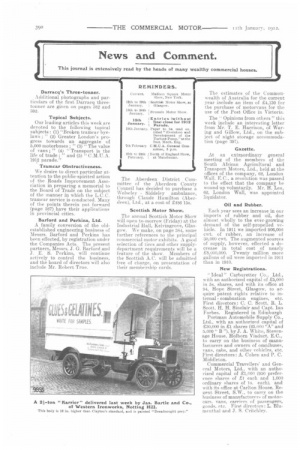 Page 11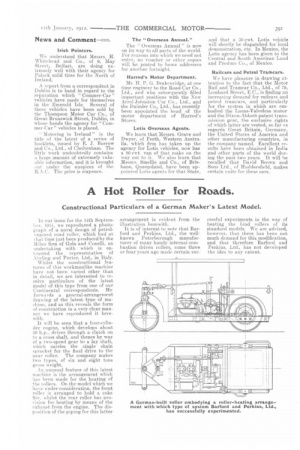 Page 10, 11th January 1912 —
News and Comment.
Close
This journal is extensively read by the heads of many wealthy commercial houses.
Darracq's Three-tonner.
Additional photographs and particulars of the first Darracq threetonner are given on pages 382 and 392.
Topical Subjects.
Our leading articles this week are devoted to the following topical subjects: (1) "Broken tramcar byelaws ; " (2) Greater London's progress towards an aggregate of 5,000 motorbuses; " (3) "The value of vans ; " (4) "Transport is the life of trade ; " and (5) " 1912 parade."
Tramcar Obstructiveness.
We desire to direct particular attention to the public-spirited action of the Roads Improvement Association in preparing a memorial to the Board of Trade on the subject of the manner in which the L.C.C. tramcar service is conducted. Many of the points therein put forward (page 387). have their applications in provincial cities.
Barford and Perkins, Ltd.
A family conversion of the oldestablished engineering business cif Messrs. Barford and Perkins has been effected, by registration under the Companies Acts. The present partners, Messrs. J. G. Barford and J. E. S. Perkins, will continue actively to control the business, and the board of directors will also include Mr. Robert True. The Aberdeen District Committee of the Aberdeen County Council has decided to purchase a Wolseley Siddeley ambulance, through Claude Hamilton (Aberdeen), Ltd., at a cost of £486 155.
Scottish Motor Show.
The annual Scottish Motor Show will open to-morrow (Friday) at the Industrial Hall, Kelvingrove, Glasgow. We make, on page 384, some further references to the principal commercial-motor exhibits. A good selection of tires and other supplydepartment requirements will be a feature of the show. Members of the Scottish A.C. will be admitted free of charge, on presentation of their membership cards.
The estimates of the Commonwealth of Australia. for the current year include an item of 24,130 for the purchase of motorvans for the use of the Post Office in Victoria.
The " Opinions from others" this week include an interesting letter from Mr. T. E. Harrison, of Waring and Gillow, Ltd., on the subject of night storage accormnodation (page 397).
Gazette.
At an extraordinary general meeting of the members of the South African Agricultural and Transport Motors, Ltd., held at the offices of the company, 62, London Wall, E.C., a resolution was passed to the effect that the company be wound up voluntarily. Mr. H. Lea., 62, London Wall, was appointed liquidator.
Oil and Rubber.
Each year sees an increase in our imports of rubber and oil, due almost wholly to the ever-growing demand of the self-propelled vehicle. In 1911 we imported 906,000 cwt. of rubber, an increase of 30,000 cwt. The augmented sources of supply, however, effected a decrease in total cost of nearly 16,000,000. Twenty million more gallons of oil were imported in 1911 than in 1910.
New Registrations.
Ideal " Carburetter (2o., Ltd., with an authorized capital of £5,000 in 55. shares, and with its office at 94, Hope Street, Glasgow, to acquire patent rights relative to internal combustion engines, etc. First directors: C. C. Scott, R. L. Scott. H. H. Sinclair and Capt. Ian Forbes. Registered in Edinburgh
Portman Automobile Supply Co., Ltd., with an authorized capital of 230,000 in £1 shares (230(00 "A" and 5.000" B"), by J. A. White, Stevenage House, Holborn Viaduct, E.C., to carry on the business of manufacturers and owners of omnibuses, vans, cabs, and other vehicles, etc. First directors : A. Cohen and P. C. Middleton.
Commercial Travellers and General Motors, Ltd., with an authorized capital of £1,000 (930 preference shares of Li each and 1,000 ordinary shares of is. each). and with its office at Carlton House, Regent Street, S.W., to carry on the business of manufacturers of motorcars. vans, carriers of passengers, goods. etc. First directors: L. Blumenthal and J. S. Critchley. Irish Pointers.
We understand that Messrs. H. Whitehead and Co., of 9, May Street, Belfast, are doing extremely well with their agency for Polack solid tires for the North of Ireland.
A report from a correspondent in Dublin is to hand in regard to the reputation which " Commer-Car " vehicles have made for themselves in the Emerald Isle. Several of these vehicles have been sold by the Thompson Motor Car Co., of Great Brunswick Street, Dublin, in whose hands the, agency for " Cornmer-Car " vehicles is placed.
Motoring in Ireland" is the title of the latest of a series of booklets, issued by E. S. Burrow and Co., Ltd., of Cheltenham. The little work undoubtedly contains a large amount of extremely valuable information, and it is brought out under the auspices of the R.A.C. The price is sixpence. The "Overseas Annual."
The "Overseas Annual" is now on its way to all parts of the world. For reasons into which we need not enter, no voucher or other copies will be posted to home addresses for another fortnight.
Harrod's Motor Department.
Mr. H. P. G. Brakenridge, at one time engineer to the Road-Car Co., Ltd., and who subsequently filled important positions with the New Arrol-Johnston Car Co., Ltd., and the Daimler Co., Ltd., has recently been appointed the head of the motor department of Harrod's Stores.
Lotis Overseas Agents.
We learn that Messrs. Grave and Dwyer, of Perth, Western Australia, which firm has taken up the agency for Lotis vehicles, now has a 20-cwt. van of that make on the way out to it.. We also learn that Messrs. Snaellie and Co., of Brisbane, Queensland, have been appointed Lois agents for that State, and that a 30-cwt. Lotis vehicle will shortly be dispatched for local demonstration, etc. In Mexico, the Lotis agency has been given to the Central and South American Land and Produce Co., of Mexico.
Railcars and Petrol Tramcars.
We have pleasure in drawing attention to the fact that the Motor Rail and Tramcar Co., Ltd., of 79, Lombard Street, E.C., is finding an increasing demand for railcars and petrol tramcars, and particularly for the system in which are embodied the Lucas-Valveless motor and the Dixon-Abbott patent transmission gear, the exclusive rights of which latter are vested, so far es regards Great Britain, Germany, the United States of America and other manufacturing countries, in the company named. Excellent results have been obtained in India and other parts of the world during the past two years. It will be recalled that David Brown and Sons Ltd., of Huddersfield, makes certain units for these cars.